The Under the Sea theme is becoming a bit of a Summer tradition. I popped along to the Fukuoka ACET teachers meeting yesterday where they had a ton of great ideas…
Make some fake seaweed. Quickly flash picture cards behind the the seaweed and ask the kids what they can see! Use Google images to add in new sea animals.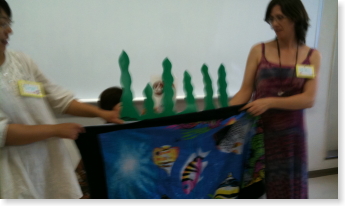 What can you see under the tree?
Change the title of the song to tree and use it to teach bugs! (Or maybe even presents at Christmas time!)
Seafood Pizza
Take last week's Crazy Pizza game and do it with seafood and bugs!
Kuru Kuru Ehon
Or how about this for an amazing way to introduce the vocab…
Here are the instructions. They are in Japanese but hopefully the pictures will let help out.
More ideas coming tomorrow, including one of the best picture books I've seen in ages!
P.S. I've just added another full day 9,000 yen workshop in Nagoya on August 2nd. Be sure to come along, details are here.