Update:  This offer has now finished.  Thank you to everyone who took part, and if you missed it, the Teacher's Set is for you! 🙂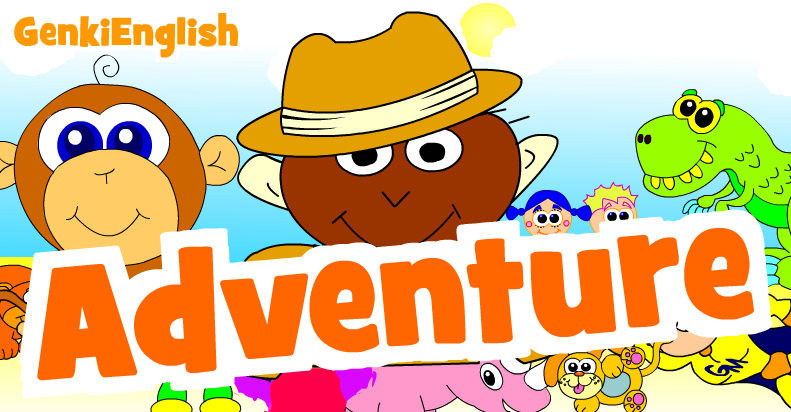 How are you doing today?
I'm a bit like you in that I'm always wanting to find new ideas and anything that makes life easier – especially things that keep the kids enthralled and get them learning more.
But I'm also always a bit reluctant to pay for big products unless I can *really* see how much they are going to help me.
And although we have the 30 day guarantee, have thousands of teachers using the Teacher's Set and it is an incredibly cheap price for a full programme that would otherwise cost so much more under a franchise system, I also know quite a few of you are  thinking:
"Can this really be as amazing as everyone is saying?"
and keep putting things off for another day. 🙂
So … just to speed you along a touch,  if you feel you're not ready for the full Teacher's Set yet, check out the limited edition (just until this Friday Feb 20th)  first level of Genki English – the Adventure Level!

Featuring the full Genki English software for the first 7 lessons, plus over 25 mp3s of Mini Lessons, Songs and Karaoke tracks.
 #
Title
Target English
 1
Genki Disco Warm Up
Class control, motivation techniques
+ stand up, sit down, clap, cheer etc.
 2
Rock, Paper, ScissorsTeaching the "Losing means try again!" rule,
and a game the kids can't stop playing!
 3
What's your name?
What's your name? My name is ……Nice to meet you.
+ eye contact!
 4
How are you?How are you?
I'm ..hungry, tired, cold, sad, happy, great, good, OK.
Positive words for a positive high ending to the class.
 5
I'm a superhero! I can….

I can jump, run, hide, cook, stretch, climb, swim, fly
The most popular Genki English song.
Suitable for kids through to adults.
 6
Left and right
Left, right, forward, back, stop,stand up, sit down, spin, jump
What used to be the most popular song
before the Superhero came along!
7
 
  Pronouns: I, you, he, she, we are happyCan't teach grammar after just 7 lessons?
Oh yes you can and it becomes really easy!
pronouns + verb to be
Whilst you don't get the full VIP access to the website you do get a great selection of pdf printables too.
If you want to get started today, this is the download pack for you!
Update:  This offer has now finished.  Thank you to everyone who took part, and if you missed it, the Teacher's Set is for you! 🙂
As I say this is only available until Friday,  just as an experiment to see how you all like it.
So if you have friends who might be interested in Genki English then do please forward this message on to them.
Let's get many more people getting great results for their kids  & loving Genki English!
Be genki
Richard
P.S.  I'm actually quite excited about this, we have 12,000 people going through the free training course at the moment so it's going to be amazing to see so many more teachers from perhaps less affluent areas being able to get on board with the real materials too!