As a teacher I'm always desperate to learn new things, whether that's new languages , 🥁new instruments, DJing or even learning how to fly a plane  or learning how to fly a helicopter 🚁(that was pretty cool!)
Constant learning always makes you a better teacher.
So last week …. I took Windsurfing lessons! 🙂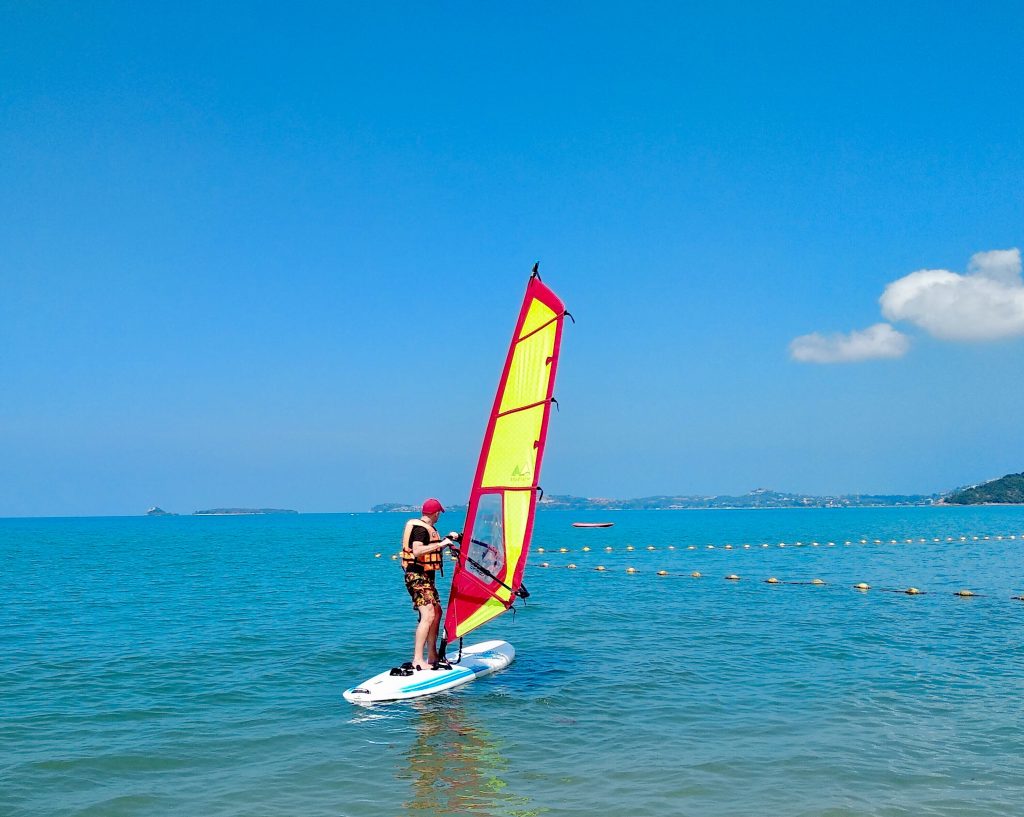 So what did I learn?
"I can't do it!"   
In the beginning most of the other students were scared and kept saying "I can't do it!"   What did the teacher do?  Did he say "Oh, OK, tell me about it, maybe you can't do it, maybe we should make it easier for you?"   Nope,  he just said "Get on the board."  For great teachers, the thought of not being able to do it isn't even considered as an option.
Fly the waves!! 
Sadly we can't start and fly surf the waves.  Step one is just getting on the board,  then falling off.  Even though the teacher has taught this a million times, for us it is still the first time.  So we have to do step one before we can do the rest.
Falling off is how you learn. 
I'm sure it drives you crazy seeing teachers who tell their students they have to be "perfect" every time.  We all know that's not how humans learn.  ( It's not even how robots learn anymore!)    Everyone tries to get on the board.  And falls off!  It's the falling off that lets us learn.   Then we go "Aha! let me try again!"   That's learning.  And good teaching.  (The "aha" bit.  It has to be just outside our current reach,  but not so far that we can't see it!)   After all if we could do it perfectly we wouldn't be needing the lessons.
Every time, step 1, step 2, step 3.   
You review the basics every time.   Just like we do with the five minute warm up, whenever you get on the board you have to first actually get on it.  Then stand up.  Then grab the rope.  Then …..   i.e. you review each step every time you get up there.  Until you've mastered it.   So many teachers skip this and think "We've done that."  And then never do it again!    "I fear not the man who has practiced 10,000 kicks once, but I fear the man who has practiced one kick" 10,000 times" said Bruce Lee.
Show off a bit 🙂 
Once we had got the hang of it we got a bit cocky.  Hey, look at this!! We can do it now!! Awesome!!   The teacher's job then is to do something *really* awesome to show us "Yeah, you've done well.  There's still more to go!"   That's what keeps students coming back for more 🙂
Right, today I'm off out to learn how to pilot a Hobbicat!! 🙂   What's next for you?
Be genki,
Richard
P.S.  If you're not Location Free yet and it's still winter where you live,  that doesn't stop you learning.  Check out the online MasterClass system, they have amazing courses from learning to write with Neil Gaiman, acting with Helen Mirren and Samuel L. Jackson to amazing music courses with Armin Van Buurren, Deadmau5, Hans Zimmer and Timabland!