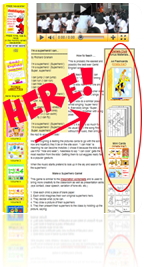 I've had lots of people ask where they can find all the Genki English worksheets.
They are so many of them now, but you can find them all online. The easiest way is:
1. Go to the curriculum page
2. Click the song/lesson you want to teach
3. You'll find all the worksheets for that lesson on the right hand side of the page.
When you click on one that is members only you put your username and password then.
(If you're not a member yet, get your Download Teacher's Set today and you'll be a member too!)
As there are hundreds and hundreds of bonus materials the good points of doing it this way are:
1. You only download what you need.
2. I can keep adding more and more for you.
3. There's no one massive file to download.
4. You can make up your own "workbooks" by printing out different types of worksheet for each theme.
5. If you're not a member yet you can still see examples before you get the Teacher's Set.
Does that make it easier to find?
Of course I'm always up for hearing new and better ways of organising the materials now that we have so (too?) many of them!