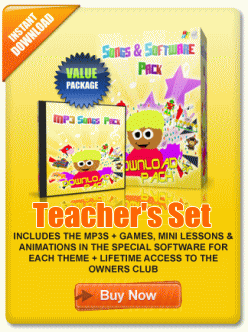 With the beginning of the new school term I've had lots of teachers asking which Genki English set is best for them.
The recommendation I always give is for the main Teacher's Set.
A new teacher who wants everything in one place to get started and keep going is basically who I put the set together for.
How old?
I say the age range is usually "3 months to 93 years"   Obviously up till 2 and a half you concentrate more on listening.  Then from 2 and half upwards you concentrate more on the speaking side.
But I can't afford it!
No worries.  Just use the free materials on the site, there are loads scattered around (e.g. start on the advice page ) and start using as many of the ideas as soon as you can.   Pretty soon this will start bringing in so many new students it becomes a pretty easy decision to invest in the pack.
This is one of the reasons I'm so confident about giving away so much free stuff on the blog and site!
Most public school teachers also find it pretty much pays for itself straight away with the amount of preparation time you save.
Although of course it's always best when your school pays. 🙂  Many schools do and in places like the US once you get a budget approved you can get sets for your whole town or county!
How long?  How many themes?
Currently there are around 100 themes (depending on if you include the holiday ones like Halloween or Xmas) for up to around 200 hours of lessons.
Once you start to get used to Genki English, you'll get through them much faster.  And Genki English is different from other courses in that we want to get the kids as good as possible, as quickly as possible, rather than padding out lessons to take more time.
Having said that hopefully this year I'll have another dozen or so themes coming out of final testing for you.  Some will be things to add at the end, some will slot in-between current themes to make them easier to teach.
What about homework?
I've got some very exciting news coming soon!
I've got 2 teachers in my school, do I need 2 sets?
For the Download Pack the  license is for one machine at a time.  For two teachers or more I do have some discounts, so get in touch for details!
How do I order it in my country?
We take orders online from anywhere in the world. Digital orders are sent straight away.
Any more questions?
I think that's all the popular questions I've been asked this week, but please feel free to ask more via email or the comments!
Enjoy,
Be genki,
Richard