The Prague trip has been very eye opening.  Yesterday we had Brendan's teenage class with completely fluent students.  And quite a few of you wrote in to say "That sounds great but we don't want to recommend computer games like that to little kids!"
Which is fair enough!
And I think I have the solution for you.
So after Prague I travelled down to Tisnov, near Brno where the fantastic Rene and Zuzu have their Zuzu English school.
They are putting Genki English into local primary schools and they also have a regular private English school.
What impressed me, apart from how amazing the kids were, was just how stress free the lessons seemed.
There was no problem with class control, in fact the kids were coming up at the beginning of class telling the teacher the new English they'd just learned.
And there was no hassle with reviewing,  they literally just whizzed through the Words 2 section of each theme, picking one kid to come to the front who then whizzed through all the vocab,  not just 5 or 6 of them, but all 8 of them, all in full sentences with perfect pronunciation! Even the Halloween theme!
Now that sounded really good,  but I was also thinking "Hmmm, is it just memorization?  Maybe they can't actually use the language?"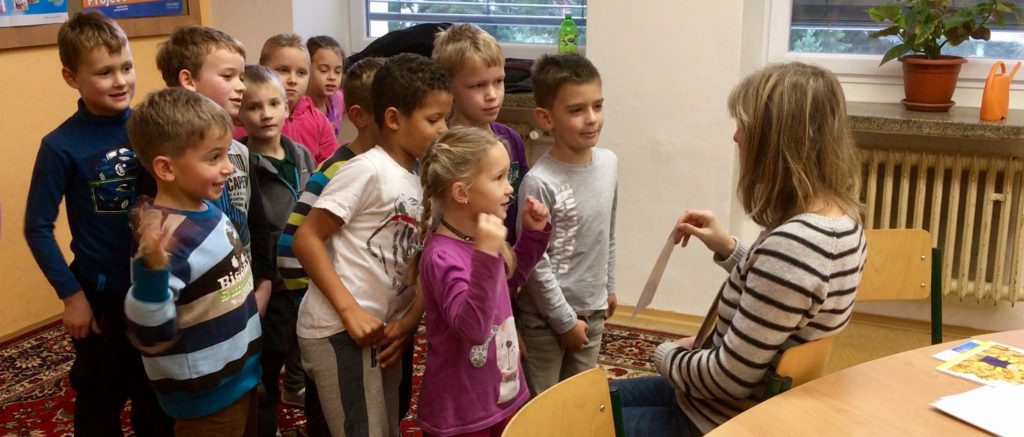 So the next step in their review,  they seemed to have so much time, was to do the Lines Quiz, but this time with the flashcards,  the teacher asks a question and the two kids at the front answer from the flashcard.  And they were some of the best kids I've ever seen!   Really, really good.
And then in the class they just checked the meanings of today's lesson's words and then went straight into the song.  The kids were going crazy for it.  And the music didn't have to be so loud because the kids were super loud and clear.
Then it was game time and they had time for loads of games.  Sooo much output practice and it was just one of the most fun lessons I've seen in ages.
How did they do it?
Now I always saw the  homework program  as just some way to get better pronunciation, faster results and an extra income stream for teachers.
But here it was different.
Here they used it to take away all the parts of the lesson that teachers stress about.
Warm up, super easy.
Class control, no problem.
Game time? Lots of it!
 Remembering everything for next time?
They had it all, and I mean everything!
The best thing though was seeing the parents.
At the end of the lesson Rene showed the kids what next week's topic was to learn with the software at home.
And they were so excited they were running out the door at the end and the parents were saying things like "Let's go home and practice then!"
How certain are you?
This really took away a huge amount of uncertainty.
Teacher's are often scared that kids might leave or other schools might open nearby.
And it's very often because parents just don't know what we're doing in class.
You can have worksheets and things, but every school has those and parents don't often understand them.
With the software at home the parents were actually seeing the kids speaking and interacting in fluent English every week.   They were seeing what a great, and irreplaceable, job you're doing.   There's no fear they'll leave because they can see exactly what you are giving their kids.
How do you do it?
In fact Rene was saying "I just don't know how teachers teach without the Homework Program, it would be just far too much work without it!"
So it was really good for me to see and to see the program in a different light.
And I think I'm going to to have to push more of you to join the homework program.  It really solves the majority of the problems you'll have in class.
So all of you who have questions or insecurities about getting the kids onto the software at home, just do it,  forget about the extra income it brings or the academic things like pronunciation and correct grammar that it gives,  use it because it brings you that certainty that you know you're doing the best job AND the parents know it too!   That way you'll have no more fears of any one leaving or copying what you do and you'll  have a school just as good, or maybe even better, than Rene and Zuzu's! 🙂
Be genki
Richard