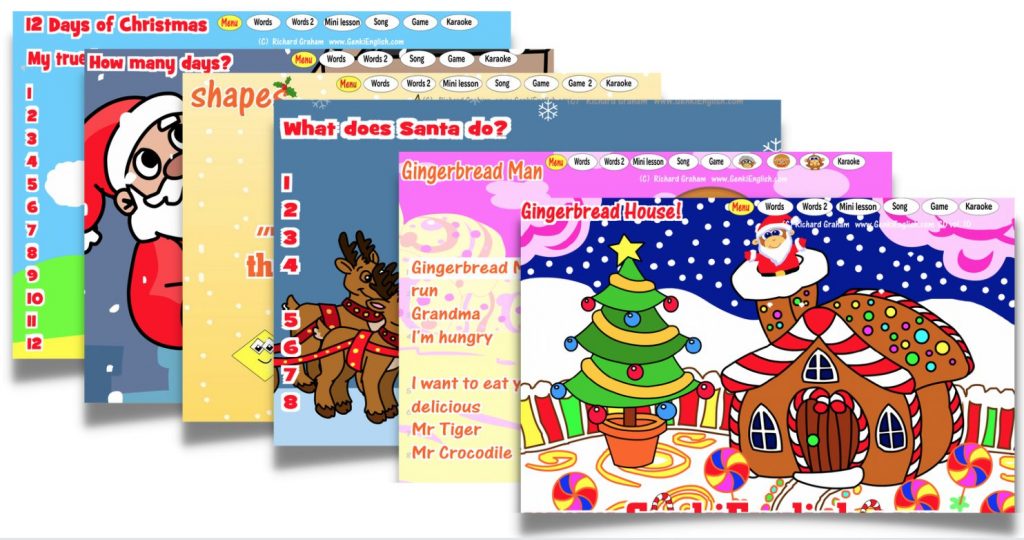 A lot of people are really shocked when they see how many amazing free materials we have over on the Genki Christmas page. The printables are VIP only, but the free items include so many Christmas games and also some of the best Genki Christmas songs!
Try them out in your class and you'll very quickly see why Genki English is soooo different from every other teaching system out there.
It really is so fun, so energetic and so full of life. Which is what "Genki" means & why we get such great results!
We can do all of this because of the amazing Genki Teachers who buy the Genki English Teacher's Set Superpack and Kids Sets. Thank you – you let us do so much more at this time of year!
If you're not Genki yet ……
And if you haven't bought your Genki English Teacher's Set yet, and you know you want to, then do it now and get all the Genki Christmas materials, not just the free ones, plus you'll be Genki all year long!
I can't afford it yet…..
Or … if you can't afford Genki English yet, using the free Genki Christmas materials is the best way to increase your teaching income so you can afford *everything* you need!
How?
By doing Christmas events where everyone can see just how amazing your students are compared with every other school in town!   Each of your students brings not only their parent but also give them a special Christmas invite to one of their friends + their parent too!
Even if you are doing it virtual this year (check out Virginie's virtual event!)  or live in person (Check out Nami's students )  using the Genki Christmas songs and games in your Christmas event makes the other Mums say
"Wow! This is different!"
No boring textbooks or worksheets, no grammar exercises, we go straight to the heart and learn English like it is supposed to be learnt. It takes away all the Mum's painful memories of learning English in school and they realize that wow, having fun like this really makes it easy! Then when you tell them it's Harvard Researched (how many systems have that?) and has been licensed by the British Council ( the UK Government's cultural arm) then they jump at the chance to join your school!
Do that, get yourself at least one full new class (or more!)  and then when you come back here in January you'll have more than enough money for the full Genki English Teacher's Set so you can have all this magic all year round and help more teachers next year!
Have a very, very Genki Christmas! Do the songs, enjoy the parties and let's show many more people around the world that being Genki is the very best way to learn!
Be genki,
Richard