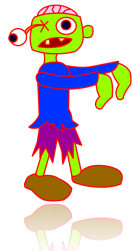 TV last week in Japan was plastered floor to ceiling with zombie and horror movies.   ( Including horrible 18 rated ones at 2 in the afternoon, not the best thing when you flip on the TV over lunch!)
It's because August is  "ghost story telling season", designed, so they say, to give you chills to cool down the hot, hot summer days.  And I guess it also links in, in some strange way, to the obon holidays where people pay respects to their ancestors.
Zombie Phonics?
Anyway, it got me thinking about using the "zombie" as a keyword for "z" in the Genki Phonics course.
As we're getting more and more younger children using the phonics and more and more kids who aren't as desensitized as the kids in Japan (you should see the kids books here!) is it better to take the zombie out?
That only leaves us with "New Zealand" and "zucchini" as keywords for "z".
But after seeing even just the ads for the horrible movies on TV this last week, I'm thinking I'd much prefer a class without any of the horror and gore.
What do you think?