! ESL EFL English site for elementary school kids, with free MP3 songs, games and teacher training >
Learn English
with Fairy Stories
When it comes to reading, everyone is always looking for new things to read that are just at the right level. Of course it also has to be something that's fun to read!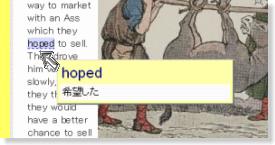 So on this page you'll find a nice selection of famous stories that you will probably know and love to read in English, whether you are studying English in China, Germany, Brazil or anywhere else.

If you happen to be in Japan, have a look at the Japanese version of this page where you can hover over any word and get an instant Japanese translation - very useful!

As most of these stories were written a long time ago and often have old fashioned language that we don't use anymore, I wouldn't recommend them for children to learn English, but they are great for older learners!

Enjoy...

Aesop's Fables ( Short!)
Long Stories from famous movies


More Andersen & Grimm Tales
THE UGLY DUCKLING
Goldilocks and the three bears

If you like this page please tell you friends!



---
Readers' Comments
by Helen
It's a great website. It's better if you have audio stories so we don't have to read the story out for our children.
- Thank you for the suggestion, we do have narrations on the picture books! - Richard
Sign up to get my top tips, games & hints via email!



Copyright (C) 1999/2023 by Richard Graham www.GenkiEnglish.com