! ESL EFL English site for elementary school kids, with free MP3 songs, games and teacher training >
Page in Japanese

Islands Game Worksheets Book
Here are a set of very simple worksheets to use with most of the
themes
.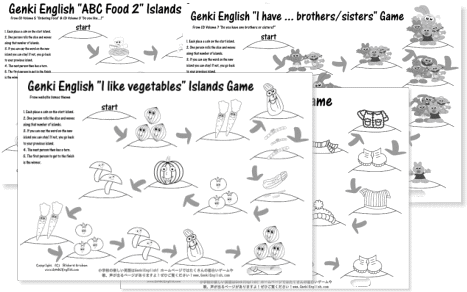 PDf Download (10 MB)
If you are a
Genki English member
you can
download them in one easy to print pdf file
.
Do the
song & game
as normal, then try these for a bonus activity.
They are especially good for kids to take home and show their parents!
Of course you can also use them for colouring activities.
The rules are very simple:
1. Each place a coin on the start island.
2. One person rolls the dice and moves along that number of islands.
3. If you can say the word on the new island you can stay! If not, you go back to your previous island.
4. The next person then has a turn.
5. The first person to get to the finish is the winner.
Be genki,
Richard
---
Readers' Comments

I love them, much easier to play than
Snakes & Ladders
for my very young group.
Ann
Sign up to get my top tips, games & hints via email!



Copyright (C) 1999/2021 by Richard Graham www.GenkiEnglish.com