🎉 Congratulations!!  Check your email!
Check your email.
You'll find your confirmation message.
Click the link in the email to confirm.
Then we can send you the free email course, starting with my Top Ten Games eBook and the "Disco Warm Up" Starter pack!
(If you are on Hotmail or Yahoo Mail, then just check the message didn't go into the spam folder!)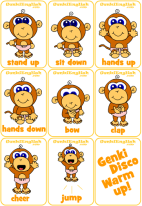 The first lesson in your free email course will start later today.
And also be sure to like the Genki English page on Facebook for even more videos and bonus material!
Or ….  if you would like all the Amazing Genki English Teaching Materials right now,  check out the full Genki English Teacher's Set!