小学校英語のA4サイズ絵カード!

GenkiEnglishのスーパーパックを購入すると、ホームページから無料でダウンロードができますよ!

教室で絵のカードを使えばいいですよ!リンゴや車等のカードを作るのは簡単ですが、"How are you?"や"How old are you?"は難しい。だからこのページで私が作った絵を紹介します。これはGenkiEnglishのCDの絵ですから著作権を有していますけど、教室で使っても大丈夫です!  


BONUS プリント:
英語の賞状を作ろう!  − Bee Genki ポースター - "英語はラクダ"ポースター


好きなテーマを選んでください:





nose, ears, mouth, eyes, eyebrows, cheeks, hair, tongue



Easter egg hunt, trees, flowers, pond, bath, bed, fridge





robot, doll, bag, video game, bear, phone, rainbow, bone



witch, wizard, ghost, mummy, bat, broom, wand, vampire


Cockroach, beetle, caterpillar, butterfly, ant, worm, dragonfly, mosquito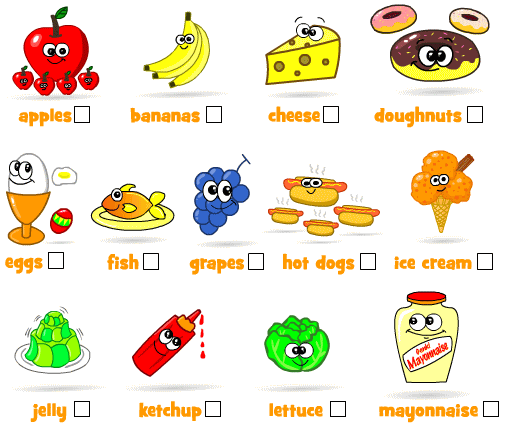 apples, bananas, cheese, doughnuts, eggs, fish, grapes, hot dogs, ice cream, jelly, ketchup, lettuce, mayonnaise, olives, pizza, quiche, rice, salad, toast, ugli fruit, vegetables, waffles, Xmas cake, yoghurt, zucchini.


Movie, sport, cartoon, video game, pet, food, comic book, TV show



good, great, cool, excellent, him, her










onions, carrots, eggplant/aubergine, beans, zucchini / courgettes, tomatoes, pumpkin, mushrooms


kangaroo, rhino, hippo, bee, bear, turkey, tortoise, duck, dinosaur, camel, giraffe, penguin, snail, rabbit, lion, bear,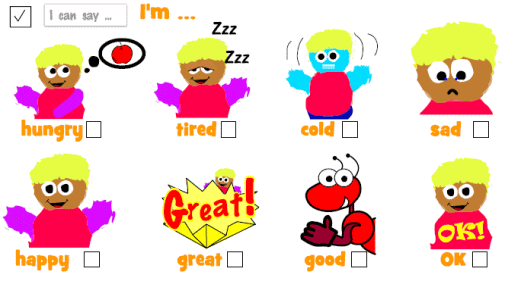 Hungry Tired Cold Sad Happy Great! Good OK
Dog Cat Banana Monkey


Rainy Cloudy Windy Snowy Sunny Fine Hot It's a beautiful day!
Spring Summer Autumn Winter
5 years old 6 years old 7years old 8years old 9 years old
10 years old 11 years old 12 years old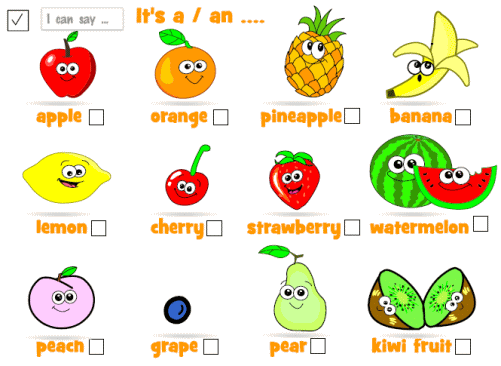 Apple Orange Pineapple Banana Lemon Cherry Cherries Strawberry
Strawberries Watermelon Peach Grape Grapes Pear Kiwi Fruit


Sea Mountain Beach Pool School Shops Park House/Home


Eating Drinking Reading Sleeping Singing Cooking Dancing Fishing
The Monkey Family 『家族』 
This is a great way of introducing the names of Family Members!

Father Mother Daughter Son Baby Grandma


Good morning Good afternoon Good evening Good night
I play tennis I play soccer I play basketball I play volleyball
I play table tennis I play badminton I play rugby I play baseball


Aeroplane Car Train Rocket Helicopter Boat Bus Mountain bike


Big Small Light Heavy Expensive Cheap Scary Cute Fast Slow


Orange juice Cola Milk Lemonade Coffee Tea Hot chocolate Milkshake


Rock Paper Scissors
Head Arm Leg Stomach Hand Foot Back Tooth
Dog Cat Bird Mouse Chicken Sheep Cow
Pig Elephant Monkey Snake Tiger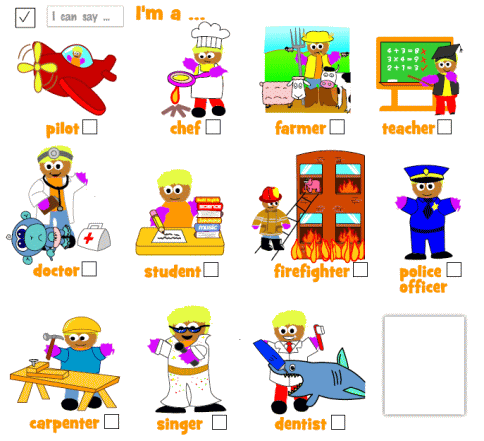 Pilot, Chef, Farmer, Teacher, Doctor, Student, Fire fighter,
Police officer, Carpenter, Singer, Dentist
Toilet, Phone, TV, Teachers' room, Computer, Piano, CD player
Octopus, Spider, Alien


Reindeer Snowman Santa Claus Christmas Tree
Christmas stocking Candy cane Presents Christmas card
その他:
意見と感想をメールで送ってください! この絵はGenkiEnglishのCDの発音ガイドの絵です。CDをやって見ませんか?


教室ポースターとモーティベーションプリント
のページをご覧ください!
印刷・ラミネート済みのピクチャーカード・パックもあります!


このサイトが気に入ったら、ぜひ友達に知らせてね!




---
Copyright (C) 1999/2023 by リチャード・グレアン
www.GenkiEnglish.com