! ESL EFL English site for elementary school kids, with free MP3 songs, games and teacher training >
Page in Japanese

Clip Art for ESL Flashcards
As used by "Last Samurai" star Koyuki in her new TV Series! (check out the picture cards on the table in this photo!)

Some of these picture may seem "funny looking" to adult eyes, but in tests these are the ones that get the biggest reaction from the kids. It's much easier to remember a card if it looks a little weird and makes you laugh, rather than one where you simply think "whatever".

Along with songs, large picture cards are one of the best ways to get kids to remember the new words. If you have the Genki English Teachers' Set, Download Pack or Superpack , you can download them for free. If you can, try and get them laminated. All the pictures are copyrighted, but please feel free to use them in your classroom.

Bonus Printouts: Printable Certificates Maker! - "Bee Genki" Poster - "English is easy" poster
- Printed Picture Card Packs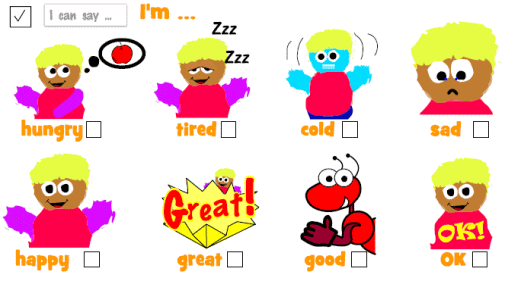 Hungry Tired Cold Sad Happy Great! Good OK



nose, ears, mouth, eyes, eyebrows, cheeks, hair, tongue



Easter egg hunt, trees, flowers, pond, bath, bed, fridge





robot, doll, bag, video game, bear, phone, rainbow, bone



witch, wizard, ghost, mummy, bat, broom, wand, vampire


Cockroach, beetle, caterpillar, butterfly, ant, worm, dragonfly, mosquito



1 o'clock, 2 o'clock, 3 o'clock etc.



Rainy Cloudy Windy Snowy Sunny Fine Hot It's a beautiful day!


5 years old 6 years old 7years old 8years old 9 years old
10 years old 11 years old 12 years old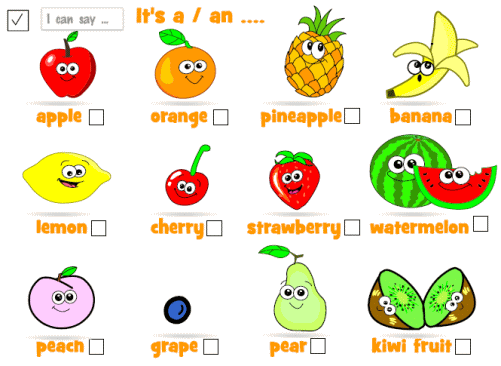 Apple Orange Pineapple Banana Lemon Cherry Cherries Strawberry
Strawberries Watermelon Peach Grape Grapes Pear Kiwi Fruit




Sea Mountain Beach Pool School Shops Park House/Home




Eating Drinking Reading Sleeping Singing Cooking Dancing Fishing



Father Mother Daughter Son Baby Grandma

Or if you're short of time, try the
Genki English
printed pack!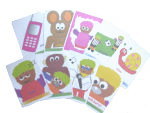 Save yourself loads of time with our brand new...
Printed, Laminated A4 Picture Card Pack!

Over 400 pictures, back-to-back as 200 laminated cards.

Strong, colourful and great for games!

More...



Good morning Good afternoon Good evening Good night


I play tennis I play soccer I play basketball I play volleyball
I play table tennis I play badminton I play rugby I play baseball




Aeroplane Car Train Rocket Helicopter Boat Bus Mountain bike




Big Small Light Heavy Expensive Cheap Scary Cute Fast Slow




Orange juice Cola Milk Lemonade Water Tea Hot chocolate Milkshake





Head Arm Leg Stomach Hand Foot Back Tooth


Dog Cat Bird Mouse Chicken Sheep Cow Pig Elephant Monkey Snake Tiger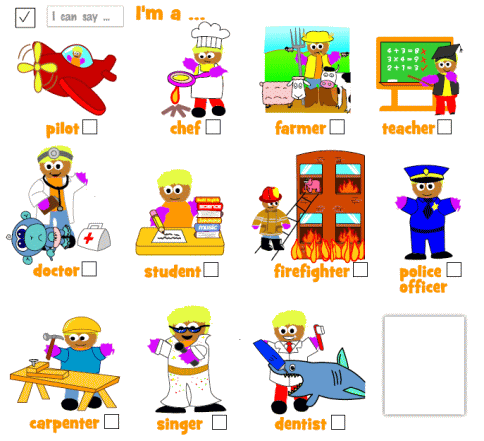 Pilot, Chef, Farmer, Teacher, Doctor, Student, Fire fighter, Police officer, Carpenter, Singer, Dentist


Toilet, Phone, TV, Teachers' room, Computer, Piano, CD player




Reindeer Snowman Santa Claus Christmas Tree Christmas stocking Candy cane Presents Christmas card




Extra sets of words:



The pictures are all taken from the software on the Genki English CDs. If you haven't seen them yet, check out them out!

Any other words that you may need can be found on the Microsoft Website. Go to www.Microsoft.com and do a search for "clip art".
You might also want to check out the ESL KidStuff site ( http://www.eslkidstuff.com ) or www.childrenonlyesl-efl.com sites. You have to pay to use these sites, but the material looks very good and is designed especially for teaching English!


Or if you want to simply buy a ready made set of cards, check out the Picture Card Pack!

---
Readers' Comments
I LOVE THIS PAGE, it's a great tool for english teachers as a second language.
Albis

Copyright (C) 1999/2014 by Richard Graham www.GenkiEnglish.com