Page in Japanese

"Animal Voices" Lesson
Target English: Animals and the sounds they make
Target grade:All ages
Song: The Animals Song can be found in the Teacher's Set
Pronunciation Guide/Interactive Quiz: can be found in the Teacher's Set
And in the new curriculum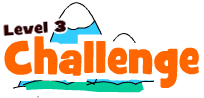 Level.


Click the pictures, hear them talk!
Note: Before trying this theme it's recommended to try the "Do you like...?" animals theme first.
The I like animals and Do you have any pets? song is also highly recommended.


Kids love animals! And that's why it's one of the most popular lessons to do when teaching English. They also seem to really like the sounds animals make, and that's the focus of this lesson.


Animals
by Richard Graham

In my house, I have...
In my house, I have...

I have a dog. Woof, woof!
I have a cat. Meow!
I have a bird. Tweet, tweet!
I have a mouse. Squeak, Squeak, squeak, squeak!

On my farm, I have...
On my farm, I have...

I have a chicken. Cluck, cluck!
I have sheep. Baa, baa!
I have a cow. Moo, moo!
I have a pig.
Oink, oink, oink, oink!


In my zoo, I have...
In my zoo, I have...

I have an elephant.
I have a monkey.
I have a snake. Hiss, hiss.
I have a tiger.
Roar, roar, roar, roar!

In the classroom or at home ........

Very simple, act out an impression of each animal as you say their name.

The gestures aren't set in stone, ask the kids to use their imaginations and decide as a class which ones to do!

Recommended Games:
Genki English Card Game - Ostrich Game

Worksheet:

Play with 2 people. Each place a coin on the start island. One person rolls the dice and moves along that number of islands. If you can say "Hello Mr/Mrs/Ms "and the name of the animal on the new island you can stay! If not, you go back to your previous island. The other person then has a go. The first person to say "Hello Mr Monkey!" is the winner. Simple, but fun!



The Picture Book!

Here is how you use the Picture Book from the software! Ninja Tip: As the kids get so into this book there isn't any narration for this one.


Ninja Tip: Although it looks like this takes a little while to set up, remember it's only five minutes :)
---

Readers Comments
by Gumby

As an extra game, give the students a minicard and they have to make that animal sound to find others with the same card. If they are older students you may want to try and blindfold them.



Sign up to get my top tips, games & hints via email!



Copyright (C) 1999/2021 by Richard Graham www.GenkiEnglish.com