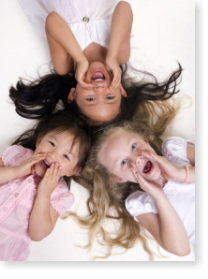 Of course we all know Genki English works great because we see it every time on the kids' faces. But especially on the hard days or when it seems like somethings will never sink in, or when head teachers or boards of education are grilling us, it would be great to have some solid numbers to show them. Luckily we now have some and they are looking astoundingly good!
Background
Because the numbers of students for the India and China projects are potentially so huge they are testing in local schools first to make sure the risks taken in putting in something so different as Genki English are worthwhile. If by some strange set of circumstances Genki English didn't work in considerably improving the kids' speaking ability then it's better to find out about it earlier rather than later!
So a team led by researchers from the University of Newcastle in the UK (a member of the Russell Group, I guess the UK version of the Ivy League) tested hundreds of kids before starting Genki English and then again roughly 6 months later to see how the children's scores in a speaking/listening test had changed.
Preliminary Results
I hope the results will be published in the future, because I just got to see some of the preliminary results and they are hugely positive. The introduction of Genki English looks to have really, really improved the children's abilities considerably. It's so nice to see all the graphs moving upwards and to the right! Needless to say I'm very, very happy about it. It takes away so much stress and me feeling I have to prove things all the time. I feel so much more secure and can now get on with the job of improving things even more.
Confidence & Enjoyment & You!
The next step is to try and look at the effect Genki English is having on "confidence, enjoyment and satisfaction of teaching" which I'm hoping we can ace as well.
Thanks to everyone for your support throughout these projects and if any of you from other countries and schools have any anecdotes or comments about the effect Genki English is having on your students please, please write them below.
Now I want to get even more teachers to know about and enjoy teaching using Genki English!