The other week I was at a conference and the most popular workshop, by far, was the one on discipline. Although I get lots of requests for discipline ideas at workshops in Germany and elsewhere, I never realised quite how popular a subject it is.
The presenter the other week was taking a few ideas from the king of classroom management, Fred Jones and specifically from his "Tools for Teaching: Discipline, Instruction, Motivation
" book (or here on Amazon Japan
) A very recommended read.
For example one technique that was presented was to control the class simply using teacher presence. For example if we have a class like this with the teacher at the front, which student A,B or C is going to give the most problems?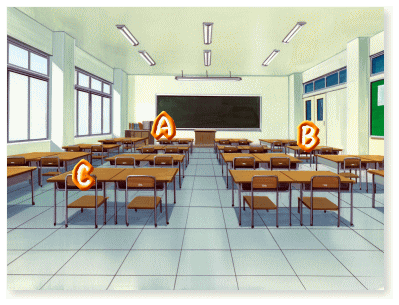 The answer is C of course as they are furthest from the teacher.
So one of the simplest ways to combat this is to simply move around the classroom as you teach. Sometimes being at the front, sometimes in the middle or sometimes even teaching from the back of the class. This simple thing is sometimes all you'll ever need!
One other very effective technique is to remove the podium or teacher's desk from the front of the class. Not only does it create a communication barrier between students and teachers, it also hinders your movement around the class.
Sometimes in larger classes the desk arrangements can prohibit this movement. So Fred also suggests a few other seating suggestions e.g. islands of desks or clear walkways between desks.
There are lots of other techniques in the book, including why kids behave like they do and it is highly recommended.
However having said that it seems quite a few teachers prefer picking up the ideas from his DVD set instead of the written page, which I can quite understand. I can't find the DVD set on Amazon, but it is available on his website for $795. (I tell you the Genki English Teachers' Set is way under priced!) If your school has the budget it seems well worthwhile.
Needless to say with such a high ticket product there aren't that many video clips around to see what it's like. But here are a couple for you. One is Fred in action so you can see his speaking style, and one is of some teachers who have used his ideas. They are a bit "salesy" & don't have too much substance, but have a look and check out the book on the US or Japanese Amazon.
Fred Jones on why traditional punishments don't work

Behavior and Grades Improve after Fred Jones Training