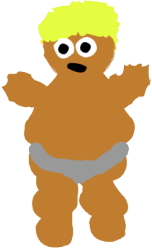 On May 14th I weighed 77.7 kg.   A bit fat!
I only had computer work coming up for the next 4 weeks.
So for a month I went on a diet and went  to the gym for 2 hours every weekday.
On June 17th I weighed 76.35 kg.
A loss of only 1.35 kg. Not good. 🙁
But then I went to India and forgot the diet.
After 7 days of doing Genki English (spread over a 10 day period), on July 7th I weighed 75.1 kg. Whahey! 🙂
So gym + diet for a month = loss of 1.35 kg
Genki English for a week = loss of 1.25 kg!
And that was with eating gorgeous Indian curries, nans and chapatis everyday!
So there you go, do Genki English everyday and you'll not only have fun, be doing something good for you kids, but you'll be losing weight, and if you're a teacher you'll even be getting paid to do it!
Bargain eh!