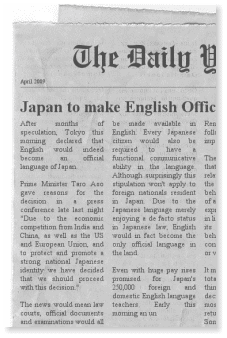 Wow, this is very exciting news in today's Japanese press:
"After months of speculation, Tokyo this morning declared that English would indeed become an official language of Japan. Prime Minister Taro Aso gave reasons for the decision in a press conference late last night "Due to the economic competition from India and China, as well as the US and European Union, and to protect and promote a strong national Japanese identity we have decided that we should proceed with this decision."
The news would mean law courts, official documents and examinations would all be made available in English. Every Japanese citizen would also be required to have a functional communicative ability in the language. Although surprisingly this stipulation won't apply to foreign nationals resident in Japan. Due to the Japanese language merely enjoying a de facto status in Japanese law, English would in fact become the only official language in the land.
Given Japan's past in English education, critics have been quick to dismiss the new plan, even with huge pay rises promised for Japan's 250,000 foreign and domestic English language teachers. Early this morning an unnamed government official exclaimed that "this is something that we will achieve. Given innovative new teaching methods such as Phonics and Genki English we believe we can indeed have every citizen in Japan fluent in English in one year's time, by April 1st 2010."