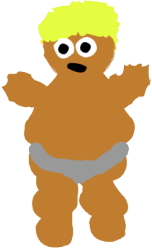 This is a very cool game sent in by Sara:
1. One person is "The Blob" and chases after all the other food (i.e. students!) saying I'm hungry.
2. When they catch someone they have to hold hands and catch other children ( always repeating I'm hungry.)
3. Until everyone turns into The Blob.
Pretty cool for an end of year outside game!
Or if you wanted to add some more English (which I know you do) ….
1. Give each student a mini card with some food.
(They can either hold it up, pin it to their shirt or even put it in head bands!)
2. Instead of "I'm hungry" The Blob targets one particular food with "I'd like some …." plus one food (all the Genki English foods are plural so the English works out really easy!)
3. Each time they catch someone they change the target food!
Pretty cool, eh!  What do you think?