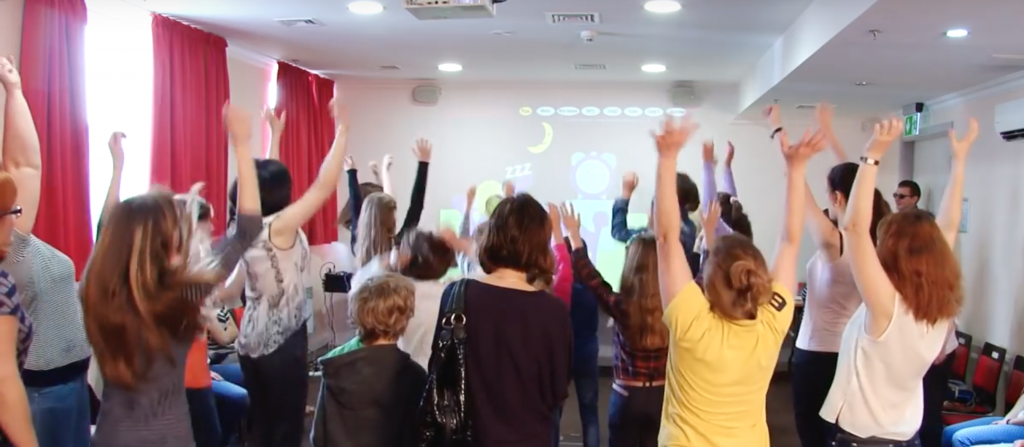 Eventually you will have a waiting list of students desperate to join your school.   That's your aim.  That's your goal.
And if you're not there yet,  or just starting out, then demo lessons can be one of the most powerful ways to get new students.   They're often free, although sometimes paid, and give parents and kids – they both have to join AND the parents have to join in the activities too! – a chance to see how awesome and amazing you and your lessons really are.
Ninja Tip:  You get the parents to join in so they can *feel* just how different your lessons are.   Then, of course, they go away and tell all their friends about the totally amazing experience they just had.  If word of mouth is what you want, this how it starts!
One of my top tips is:
Don't wait for the end, finish the lesson right in the middle of something really, really fun!
Say "Oh no, we're out of time.  I hope you loved it and parents, the sign up forms are at the back!" and you'll get the kids begging to sign up so they can come back next week.
So do a shorter than usual lesson, maybe just 30 or even 20 minutes.  My recommended order is :
A content lesson such as How are you? (easy)  or What's your name? (easy) or Pronouns ( impressive to parents!)
Then finish the lesson with the Superhero theme.
Do all the fun stuff with the games & gestures, then time it so the time finishes just as you've finished the Superhero song.  The kids will be all pumped up and definitely wanting more. But tell them that's all you have time for.  Human nature being what it is means they'll want what they can't have and start signing up for your courses!
Make sure you have an assistant ready with the paperwork (and payment forms) for parents to fill out right there and then.  (Pay a friend if you don't have an assistant – it will be well worth the investment).  You want the parents to sign up right now whilst they remember what it feels like to be in your class.  People buy on emotion so don't let them go home to "think about it" as everyday life will take over,  make it really easy for them to commit to your amazing lessons whilst their little darlings are feeling like they rule the world!