Enrollment to This Year's Class is Now Closed!
🎉 Congratulations to everyone who got in!
✨Transform your English with the Advanced (C1/C2) Genki English Online!
Watch the video to see how you and your English will transform!
These are the first 4 books you'll be reading in week one!


Class starts on Monday November 21st, 2022.  Enrollment for this year's course has now finished!
Check out what previous students have said: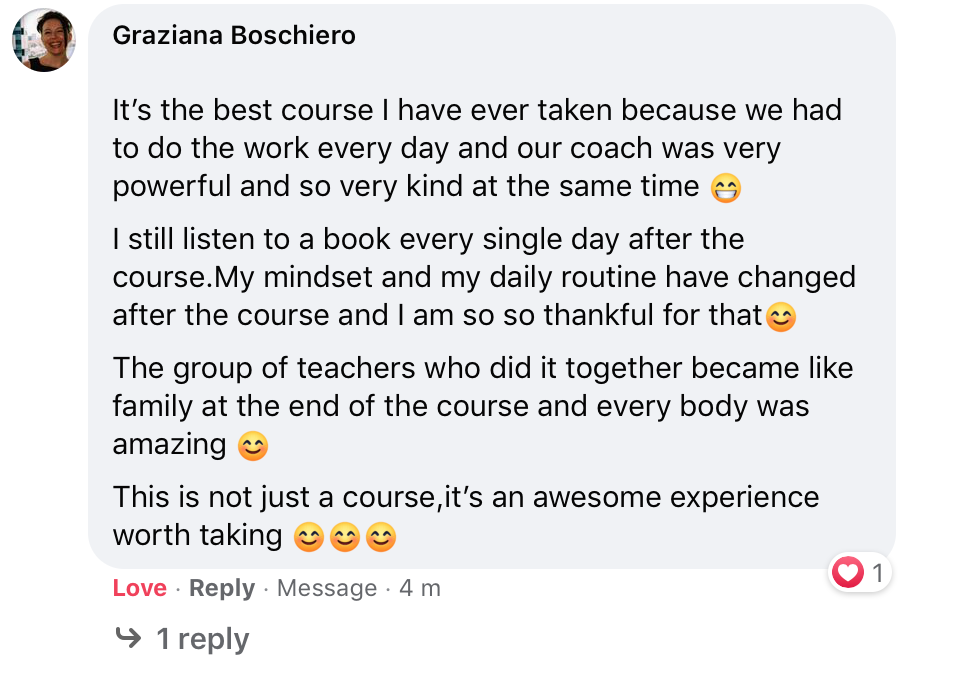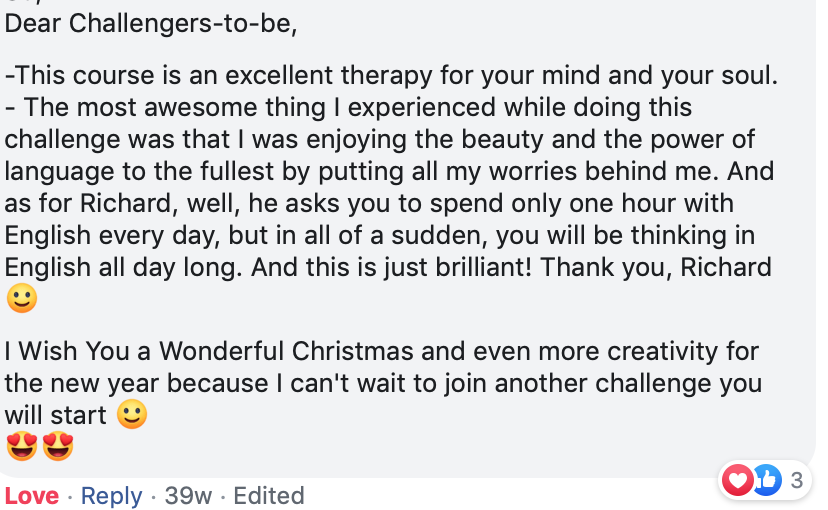 FAQs!
Q: What time of day is class?
A: You can do it anytime of the day! We have people from all over the world doing the class so you have total freedom of when in the day you do the work. The only thing is that each days tasks have to be done that day!
Q: How long per day do I have spend on the class?
A: For C1/C2 level it will take you around an hour per day. That's usually 20 minutes journalling, 20 minutes reading/listening to today's new book (we have special magic for that 🙂 ) and around 10 to 15 minutes on the assignments.
Q: I'm B2 level, can I still do the course?
A: You can but you'll have to do a little more work to keep up. As we read a new book each day (!) you'll probably have a lot more new words and phrases so instead of 1 hour per day, it could take you up to 2 hours each day. If you're up for that and you have passion and drive to improve your English then give it a try! 🙂
Q: Can I join as a native speaker?
A: Yes, you can! Just forcing yourself to journal each day and read books on completely new topics opens your mind in ways you can't imagine. This is one of the reasons I read all the books and do the journals myself each time – you finish the year on such a high, which I think we all need this year! Plus of course you get to see how I teach and how my advanced level students learn!
Q: Are you going to correct my mistakes?
A: In the beginning I'll be focussing on checking any mistakes with mindset. That's the most important indicator of success. If there are big mistakes in communication or repeated mistakes I'll pick those up later on but I won't focus on spelling/grammar mistakes that a computer can pick up far more efficiently. This is a very different way of learning 🙂 Having said that for the past two years I did also add the Advanced Genki Grammar for participants which was quite popular. 🙂
Q: Why do some people do the course so many times?
A: This course is a whole upgrade for just about every area of your life, from teaching to relationships, from love to health & wealth, we cover a HUGE range of books & mindset on all the best-selling topics of the time. And the skills you learn here will keep you upgrading and upgrading everything. Plus the books we read each year are all different, so some people have signed up 1, 2, 3 or even 4 times and keep getting more out of it each time. ( For Alumni, there is an alumni discount in your group!)
Q: Do I have to show my face on camera?
A: The first time I did this I was thinking everyone would. But …. as with all good lesson plans it didn't quite work out like that! 🙂 As it's mostly amazing women who join my courses many of them didn't want to show their faces on camera before putting on their make up! So they created a tradition of pointing the camera to the written assignments and reading them out loud. Then people started going outside and filming. And then showing off for each other 🙂 And as a by product of the course everyone's self confidence was tremendously boosted so by the end of the course just about everyone had no problems at all with the camera 🙂
Q: Can I look up the words? Do I write them down in English or in my native language?
A: With the app we use to read and listen to the books each day, any words you don't know you just touch, the translation appears and you write those down. Most people learn several hundred to a couple of thousand new words in the 21 days so I would always recommend writing down the translations which is much more efficient than trying to do English to English definitions. These are hyper real words that we use everyday in high level English!
Q: I can't afford to invest in my own English improvement this year, what can I do?
A: Check out the page here to fix that and let's get you signed up next year!
Q: Can I just hire you for one on one lessons instead?
A: I guess you could, but that would be my one on one coaching packages which start at $7,500 per month! And I only take on 3 or 4 new students per year. So this class gets you all my genkiness for a fraction of the price. Plus you get to learn with an amazing cohort of fellow students!
I only do this class once a year in November.  It's your only chance to learn directly from me so make sure you don't miss out.
UPDATE:  Enrollment is now finished for this year!   Congratulations to everyone who got in & for everyone else, I'll see you next year!
Email me if you have any questions!