A bit of a change again today as Margit has just sent in this great game she uses with her adult students.
Check out the video below!
(Click here if you are on email and can't see the video!)
1. Hand out one of the Odd One Out snowman cards to each person.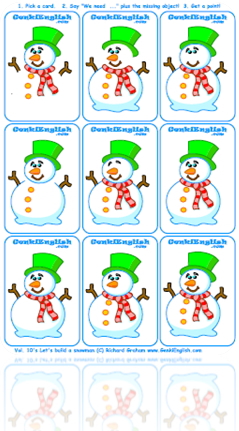 2. Whilst clapping (to keep the rhythm and add the adrenaline!) one person says "Look at my snowman, it doesn't have a ….. I think you need a …." according to what they have on their card!
3. Repeat from step 2.
According to Margit this really stresses her adult students out but is the most fun for them too!
She has also written up her thoughts in Japanese on her blog here.
What do you think?  Would you like more of these advanced type ideas too? Do let us know in the comments!