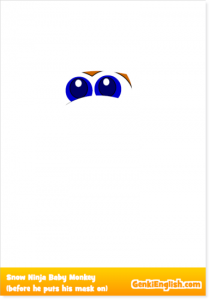 You might have noticed a few "Ninja Baby Monkeys" around the site the last few weeks.
So today I'm very happy to bring you a brand new set of picture cards "Baby Monkey – Snow Ninja!"
It's basically some very funky Genki English verbs some from Superhero & Eat Drink Dance but with Baby Monkey  – in his white snow ninja outfit!
Just for today they're a free pdf download for VIPs or non-VIPs – so get them while they are hot!
Baby Monkey Snow Ninja Verb Cards
(They'll be gone tomorrow, so do download them today!)
P.S.  To save you ink when printing, I've kept the backgrounds white too, hope that's OK!
If you have any problems with the cards, just pop a message in the comments on the blog – I've love to snow what you think!
Be genki,
Richard