I'm currently testing some ideas for A4 cards to go with the new "Can you speak English/French/Chinese etc." theme.  Two great ideas over on the members forum were to add in the script for each language and to try and include every country that uses that language!  As you can tell below it produces some amazing results and should spark a whole lot of interest as well as let the kids know how useful English is as it can be used in so many places.
I've used  Wikipedia (which is hardly a reliable source!) and the  CIA Wordfact Book (which hopefully is!) to include the countries that have the language as either an official or de-facto official language.  But if you spot any mistakes with countries that should or shouldn't be there, or indeed with the flags or script then please, please let me know.  The last thing I want to do is to offend anyone! Although I have a kind of feeling that will happen somehow.
I'm guessing 汉语 is the better than 普通话 for Chinese, but what about Korean, do you think I need to include 조선말 as well? I guess maybe seeing as the North Korea flag is also there? I'll be checking myself but if anyone could ask friends who could give an opinion it would be great!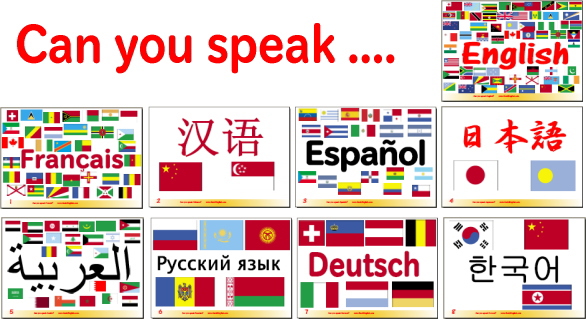 There's also a printable PDF version for members.