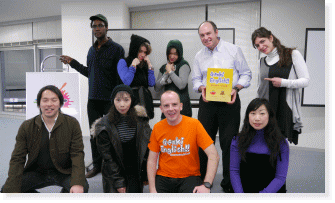 Today we had a private full day workshop for a new set of schools in Tokyo. The cool thing was that the participants were all creative professionals (we had a professional singer, dancer, orchestral percussionist and 2 movie producers!) who are going to be using their talents alongside the Genki English curriculum for premium style English classes.
It's quite an exciting way of doing things, and everyone was really great.
Being creative types though the questions we had in the beginning were a little different to say the least! As well as the usual, discipline, which style of teaching etc. we also had some funky ones such as:
* Do the children love me?
* Should we feed them?
* What happens to bullies?
* Do the kids really want to be there?
* Am I qualified?
* Is it OK to yell?
* Should I be friends with the students?
At first I thought they were kidding, but no these were real deep questions they were genuinely asking!
So I might as well write up my answers for you guys here…
Do the children love me?
A very deep question. The answer we came up with is "yes".
Should we feed them?
No. Although everyone loves candy, allergies, diets and all the other concerns of modern life mean an over abundance of caution is probably the better course. You wouldn't want to kill a kid with candy. In most public schools giving the children food is banned anyway.
What happens to bullies?
They all live a life of misery? If only! This went back to the usual discipline questions.

Do the kids really want to be there?
In the beginning, probably not. Our job is to make the lessons as exciting, challenging and inviting as the latest Playstation game, so that after the first lesson is over they really do want to be there, every week!
Am I qualified?
If you speak English and are passionate about what you are doing, you are more qualified that 99.9% of English teachers in the world. From then on it's just a case of learning as much as you can about your chosen art, from books, videos and the net and real life experience.
Is it OK to yell?
No. Getting angry is the final resort and once you go there you've nothing left. This doesn't mean you mustn't discipline. As with any type of management "strong and calm" is the key. But never get angry.
"A man is about as big as the things that make him angry" says Winston Churchill.
Should I be friends with the students?
Different people have different thoughts on this, but I'd say "Be friendly but not necessarily friends". With adult students who are friends it can get a little blurred, but just make sure your role is as the teacher in class time and everything should work out fine.
Thanks to everyone for today, and I look forward to seeing how you guys get along with the real Genki English lessons!
Anyway, what are your thoughts on the above questions? We'd all love to hear them in the comments below!