Phonics "o" Song: I am a robot
Page in Japanese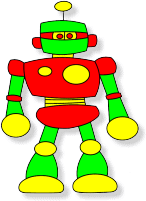 Target English: phonics "o" sound, on & off
Target grade: Kindergarten to Adults
This song is in the  Teacher's Set
And in the new curriculum

Level.
It's not just phonics practice,  check out how creative Virginie's amazing students have been for their end of year performance!
And even teachers bring out their creative side – who would have know these teachers would be so awesome!! 🙂 
I wrote this song to illustrate the phonics "o" sound for the Genki Phonics Course
But it also works as a great stand alone class for learning "on" and "off"
How to teach
1. Everyone sings "I am a robot" whilst dancing like a robot.
2. Teacher picks one student.
3. This student starts dancing like a robot on "on".
4. On "off" he or she freezes!
5. Continue from step 1
Just check out the second guy on the video above!
And here are "on" and "off" A4 flashcards for VIP members