Phonics "o" Song: I am a robot
Page in Japanese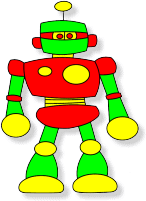 Target English: phonics "o" sound, on & off
Target grade: Kindergarten to Adults
This song is in the  Teacher's Set
And in the new curriculum

Level.
I wrote this song to illustrate the phonics "o" sound for the Genki Phonics Course
But it also works as a great stand alone class for learning "on" and "off"
How to teach
1. Everyone sings "I am a robot" whilst dancing like a robot.
2. Teacher picks one student.
3. This student starts dancing like a robot on "on".
4. On "off" he or she freezes!
5. Continue from step 1
Just check out the second guy on the video above!
And here are "on" and "off" A4 flashcards for VIP members