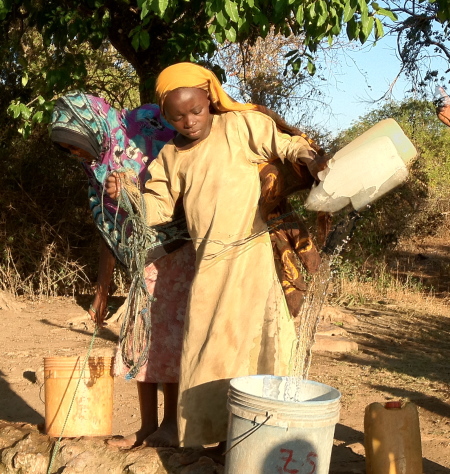 I don't really like writing about this publicly ( because I don't want to get swamped, and equally I don't want to feel guilty about having Spotify or nice cups of coffee) but lots of people have been writing in so I figured it's easier to explain here than in individual emails….
So, as you know, the main thing that keeps me going with Genki English is the work we do with schools and projects in the ultra poor regions of the world.
For most countries Genki English is simply the best way to teach English.
But in the poorest areas it is a ticket to a better life.
Speak English.  Get to go to high school.  Get a job.
And on top of that there are the huge self confidence boosts, especially for girls.
The results I see in communities like this lift me up like nothing else.
Now, if you are teaching in a developed country then the price of the Teacher's Set is far too cheap,  most of you will pay for it in a year with just one new student.
It should be 5 or 10 times the price.
And by the same token, in the world where parents are earning $1 or $2 per day, it's still affordable for a school but ideally we'd like to find some other way for the community to invest.
Ninja Tip:  Whenever you do any "aid" project,  you always need the community to invest.  You have to feel ownership of the project, whether that's in determining the outcomes, helping with construction or committing to a goal.  Just giving things for "free" never works.  Because that's what it gets valued at. 🙂
So for the past several years I have been offering an alternative way to invest in Genki English for some ultra low income projects.
Instead of a financial payment for the Teacher's Set, instead I ask for an educational investment.   What I usually ask for are:
A concrete, measurable goal for the course where Genki English will be used.
A system in place to see if we are achieving these goals.
Ninja Tip:  Sustainability is the key here.  Very often I get people asking if they can get a free pack because they are volunteering for a year in Panama or Thailand or Colombia.  But often those projects aren't sustainable.  In fact they can be harmful because if you go in there doing amazing lessons without having the whole community signed on to sustain the project when you leave, and without bringing the local teachers up to your teaching level, then they can quickly lose all respect from the kids and parents as they often have no choice but to go back to their old ways of teaching.
Ninja Tip 2:   The lack of an outside budget part is also important too.  I've spent many nights trying to scrape one or two bahts or rupees off the printing cost of a workbook only to find "executives" being flown in and put up in 5 star hotels for crazy prices.   If you have the budgets,  please pay for Teacher's Sets as usual,  you will love the ROI they give you.  Similar if you work for a government who spends millions (or billions) of dollars on substandard materials,  get them to invest in Genki English instead.  They have the money and it will be the best investment they ever make!
I want to help long term, sustainable projects that come from a deep desire from the community to measurably increase a specific aspect of a community's education.
And measurable is vital,  if we can't measure the progress there is no way to show everyone that they've actually achieved what they set out to do.
If your sustainable education project is in a ultra low income area, there is no outside budget to pay for materials and the community has a desperate want of an English, self confidence or reading program then get in touch.
How can I afford to do this?
This is a lot of work.   And the only reason I can afford this, quite literally, is because of all the rest of you supporting Genki English by buying the Teacher's Sets and other products. Thank you.  Seriously.  Thank you.
I wrote at the top of the page "buy one, give one free" and that probably is the best ratio for me to be able to offer these packs.   (I still need to process all the orders and help the teachers, so I can't take on an infinite amount.  And similarly I still need time to provide great value to all of you who have paid for the packs.  And a holiday would be nice,  I haven't had a whole week away in years. 🙂 )
It doesn't always balance perfectly,  for example some months I might just have a few requests say for a Hippotherapy camp in Nigeria (which I thought sounded very cool), or a project for street kids in Cambodia (which upset me deeply.)    Sometimes I might have none.  Or sometimes I might be helping 40,000 kids with very cool "learning pods" in rural India (this one was quite exciting, if a lot of work recoding and splitting up the software!)
It's not a charity 🙂
But please be clear,  this isn't a charity.   Genki English is run as a private, for profit business, because I truly believe that is the best way to improve education in the world.   (In my experience charities spend all their time fundraising and universities spend all their time trying to get grants and scholarships.   Private businesses work by having to make awesome products, our time goes into making sure what we provide has to really work 🙂 )
And as I say, I also want to be free to know that I can enjoy my coffees and watch Star Wars three times without feeling guilty.
So if you want to give to charity,  please do that instead.  🙂
Also if you've already bought the Teacher's Set  – thank you!- please don't buy it again just to support me,  give the money to your favourite charity and help me by telling other people about Genki English.
But if you haven't invested in the Teacher's Set yet and want the best English program in the world for your students,  I hope this helps explain a little about where I am coming from and what makes me spend all this time trying to make the best English, phonics and self confidence programs on the planet for you, and for everyone else.
The world is a far better place.
Contrary to what you might read on the news,  the world is a far, far better place to be than ever in our history.     In the last 20 years world poverty has literally halved.   ( And I bet you didn't read about that in the newspapers!)   There are still huge challenges,  but education is the most important way to keep this momentum going.
Your feedback and your support are key so let's make the next 20 years even more amazing.  And fun. And successful. For everyone. 🙂
Be genki,
Richard
P.S.  Just one more thing, notice I've been using the word "ultra poor" throughout the article.     If you live in an area with drinkable tap water, don't even think of asking me for a free set.    In the past I've had teachers in, for example, Japan or Europe saying "oh, we've got no money, can we get it for free."     If what comes out of your tap is potable, you literally bathe in purified drinking water.  I think you know what my answer would be. 🙂