About this time of year I get a *lot* of emails along the lines of
My Junior High School (JHS) students are dead!  They won't say anything.  They won't do anything. Help!!!!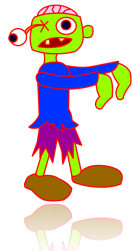 First of all … Don't worry.
All they are doing is what they have been taught to do in school, which is to basically sit down and be quiet.
They think they're doing a good job. 🙂
So your job is to let them know that a) it's OK to speak, relax and have fun and b) it's actually the best way to learn.
Once they know that this is actually allowed, it starts to make sense to them.
Then you can slowly start to cure their shyness. (Remember shyness is just the degree to which you can communicate.  And the cure for shyness is confidence.)
Genki English wise, the trick is to play the songs and especially computer games on the TV in class but *don't* tell them to sing or move along.
If the volume is loud enough what magically happens is that they start to move and sing on their own.
Especially when they get into the computer games.
(Which I originally wrote for my junior high classes.)
Of course if you're not using Genki English in your Junior High classes then…. well…. sorry, it's back to teaching a bunch of zombies!! 8)
Be genki,
Richard
P.S.  Here's how to plug your laptop into the school's TV: