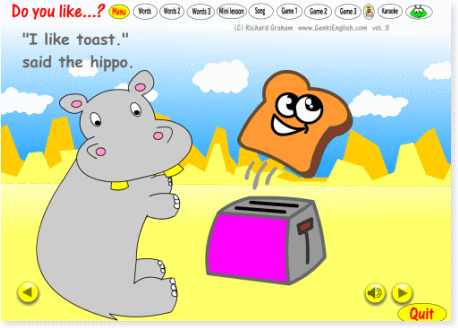 Here's another update for you, this time for the very, very popular "Do you like …? lesson.
As before VIP Members get it as a free upgrade for helping me do the final (stressful!) checks. Thank you!
(If you're not a VIP Member yet, get your skates on, your Download Pack is waiting for you! 🙂 )
Songs/Graphics/Vocab testing has all been completed and can't be changed, what we need to look for here are real mistakes, spelling/typing, buttons not working etc. that sort of thing.
Plus of course if you have any nice words to say about the update it always helps motivate me to do more for you! 🙂
What's changed:
– Loads of new graphics
– Higher quality sound
– Remastered Music Tracks
– New "Words 2" section
– Now the Picture Book is also included, right there in the software!  Will that be useful do you think?
To install:
1. Safely back up your Download Pack / USB ( because you know *something* will go wrong somewhere!)
2. Right click and select "save as" ( or Apple Key + Click for Mac users) on this link:
https://genkienglish.net/clipart/DOULIKE.SWF
3. Copy the files into your Download Pack / USB folder (overwriting the previous versions)
Please write up in the comments if you find any mistakes, or if you don't, to let me know it's all OK!
Hope you like it!!
Be genki,
Richard
P.S.  These updates will only be available for a limited time, I'll take them down as I upload more of them so get them while they are hot!
P.P.S.  If you are lucky enough to have one of the amazing new Retina Mac Book Pros you'll be very happy to know that all the Genki English Software is all super hi def Retina Display ready.  As soon as adobe rolls out the free Flash Player update (which should be very soon) you'll be able to enjoy  Genki English in all its cinematic glory.
P. P.P.S.  The winner of last month's comment competition was …  Jennifer! This month's competition is on now, the more you comment on any of the posts on the blog, the more chance you have of winning a Genki English CD of your choice!