Dive into the fantastic universe of English idioms like "spill the beans,"🥫 "pigs might fly," 🐷 "on the ball," 🏀 "cool as a cucumber" 🥒 😎 "out for the count" 🥊 , "head in the clouds" ☁ , and of course "the elephant in the room" 🐘 🚪
Embrace the challenge, and remember, when it comes to mastering these expressions, the ball is in your court! 🎾 🌟 🏆
Over 60+ high quality idioms posters with hundreds of example phrases in this brand new Genki English pdf book!
—————————-
Idioms are the secret sauce to mastering conversational English for intermediate and advanced learners.
While it might feel like pulling teeth 😬 for students to grasp them at first, and they might not need to speak them at all, understanding idioms is a must!
They add flavor, personality, and even humor to conversations.
Many teachers have asked me for a much Genkier way to teach them so I picked out some of the best 60+ idioms and gave each one a huge, vibrant, colorful illustration to make remembering them a piece of cake 🍰.
And then added hundreds of fun example sentences, so your students can truly absorb the English language – not just learn and forget it!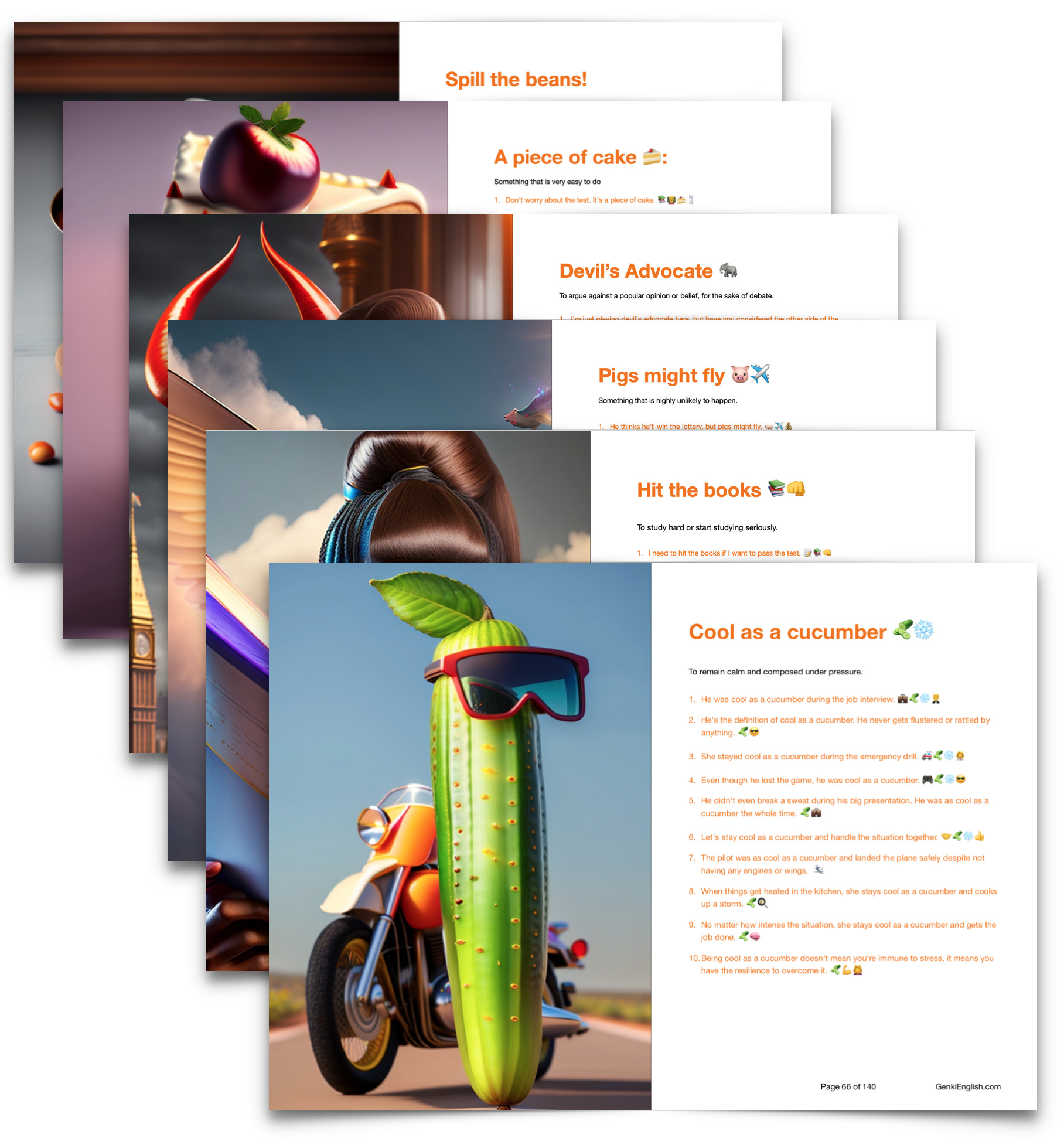 You can use the PDF to teach the idioms in class or print them out as beautiful posters with example sentences on the back or the next page.  Or of course students can buy their own copies too.
Now, I know what you're thinking. This must cost a fortune, right?
Well, as a token of my appreciation for all the amazing work you do every day, I'm offering this game-changing guide at a jaw-dropping, 𝗶𝗻𝘁𝗿𝗼𝗱𝘂𝗰𝘁𝗼𝗿𝘆 𝗽𝗿𝗶𝗰𝗲 𝗼𝗳 𝗷𝘂𝘀𝘁 $𝟭𝟬!
But wait, there's more!
Once you buy it and fall head-over-heels in love with it 💖 (I mean, who wouldn't?), I want you to spread the word and give us your feedback. As we sell more copies and hear from you, I'll keep adding even more value to the book and gifting you the updates!
🔥 [Download Your Copy Now for Just $10!] 🔥
Now you could spend days making up your own pictures and example texts, but it would cost you way more than $10 just for the tools to do it & I'm pretty sure it wouldn't be half as fun 🙂  So you might as well buy the book whilst it's on sale!
Trust me, your students will thank you.
Keep rockin' those English lessons!
Happy teaching, and remember – the sky's the limit! 🌌

Be genki,
Richard
P.S. This special $10 offer won't last forever, so don't miss out! Get your copy now and unlock the secret language of English idioms for your students! 🗝️📚