Here's another game from Mido, this time for spelling/phonics. It's an alternative to the "Phoneme Fingers" that I introduce in the full phonics videos (2nd video on this page)
It works especially well for kids in Korea or Japan who have a tendency to add extra sounds to the end of words!
1.  Put the kids in groups.
2. Give each group a hula hoop which they put on the floor.

3. The teacher says a word.
4. The kids figure out how many phonemes (sounds) are in the word and put this many legs into the hula hoop!  (e.g. for "right" there are 3 sounds, "r", "igh", and "t")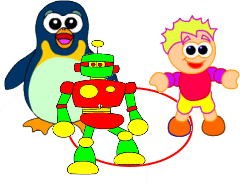 5. The teacher says "freeze!"
6. Now everyone says the word together, counting the phonemes.
7.  See which teams got it right!
Keep going with more and more words.
What do you think?
P.S. You can use the words on the phonics worksheets to make sure you don't accidentally use any examples the kids don't know how to do yet.
P.P.S.  If you're really up for it (and can make sure the kids have done all the sounds!) try simple sentences.
P.P.P.S. If you can't get yesterday's poster to work, check out the comments!