With Easter being so late this year (Easter Sunday is April 20th),  it's giving more people the chance to try the Easter Egg Hunt lesson.
And seeing as extra picture books have been such a big request lately, I just added the Easter picture book to the software!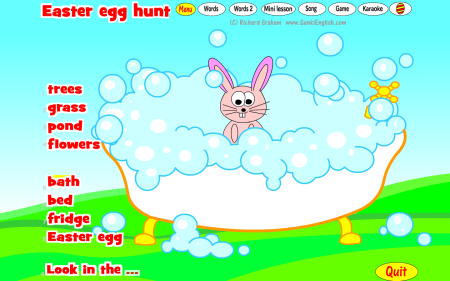 To install:
1. Safely back up your Download Pack / USB ( because you know *something* will go wrong somewhere!)

2. Right click and select save as on this link.


3. Copy the file into your Download Pack / USB folder (overwriting the previous version)
There are a few other updates in there so if you like it, do let me know in the comments.  (Similarly, if you find any mistakes let me know there too!)
I was so amazed by how many people responded to the new software menu post the other day, it really does motivate me to get more made for you – sometimes I leave things on my hard drive for ages thinking no one would be interested in having them!
Happy Easter!
Be genki
Richard
P.S.  Fukuoka workshop added April 6th – do join us, details are here!