Hey, Amazing English Teacher!
You know, I've been hearing from countless teachers like yourself, all struggling with the same problem: teaching grammar to older kids!
And let's face it, who can blame them? Most of the example sentences out there are so monotonous, they could put a caffeinated squirrel to sleep. ☕️ 🐿️ 💤
But hold onto your board markers because I've got just the solution to cure those grammar-time blues!
Introducing the "Genki Grammar Guide To English Tenses, California style! 🏄‍♂️" eBook!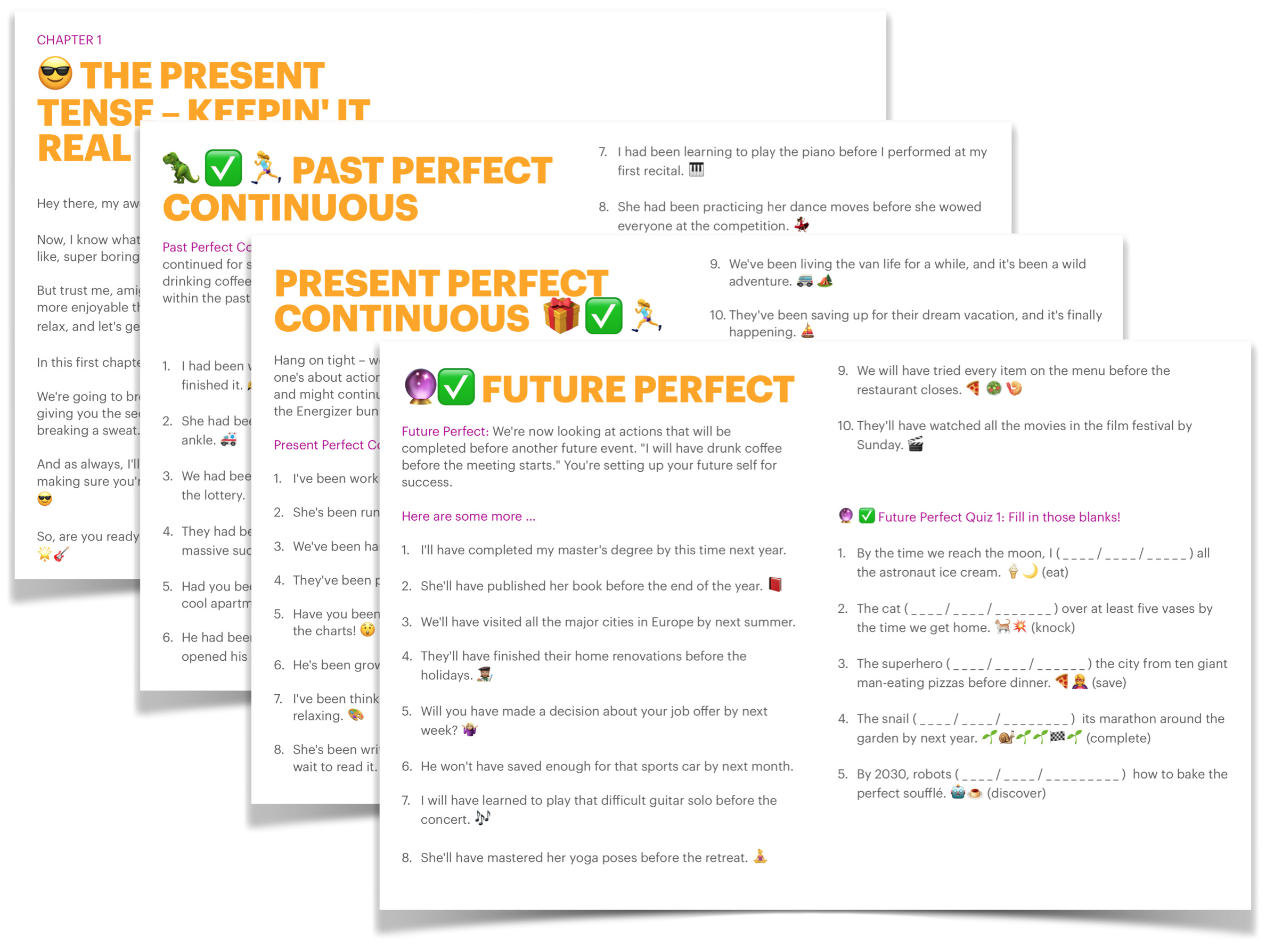 You read that right. I've taken all 12 English tenses and given them a genki-fied makeover with a ton of insanely fun example sentences.
These bad boys are guaranteed to get those grammar patterns lodged deep in your students' brains.
No more yawning through lessons, no more glazed-over eyes. 👀
With the Genki Grammar Guide, your students will be BEGGING for more grammar practice. Can you imagine that?! 🙏
Now, I know what you're thinking. This must cost a fortune, right?
Well, as a token of my appreciation for all the amazing work you do every day, I'm offering this game-changing guide at a jaw-dropping, 𝗶𝗻𝘁𝗿𝗼𝗱𝘂𝗰𝘁𝗼𝗿𝘆 𝗽𝗿𝗶𝗰𝗲 𝗼𝗳 𝗷𝘂𝘀𝘁 $𝟭𝟬!
But wait, there's more!
Once you buy it and fall head-over-heels in love with it 💖 (I mean, who wouldn't?), I want you to spread the word and give us your feedback. As we sell more copies and hear from you, I'll keep adding even more value to the book and gifting you the updates!
🔥 [Download Your Copy Now for Just $10! PayPal or Credit Card] 🔥   Or here for Apple Pay or Google Pay!  🔥
Trust me, your students will thank you.
Keep rockin' those English lessons!
Be genki,
Richard
P.S. Remember, this exclusive introductory price won't last forever. So get in on this now and give your students the genki grammar experience they deserve! 🚀
P.P.S.  If you don't have the "Pay with Credit Card" option on the PayPal links above,  try this link here with options for Credit Card, Apple Pay and Google Pay!