I'm really glad that I work with some great people in Thailand. Everybody is so helpful, really friendly and always super polite. But if I came here as a tourist I think I might walk away with a very different image.
At first I thought the Bangkok taxi drivers were bad. A little over charging is maybe to be expected but doubling the price for a trip is not really fair. Then they start with all these excuses about petrol and stuff, today I heard the best one that if the guy took us to the airport he wouldn't be able to get any fairs back! Even if you have to wait a bit, get a metered taxi. Outside the tourist areas it's the norm and although it costs around 200 Bahts to get to the airport, anywhere in the city is rarely more than 100 bahts away. The taxi driver is still making a nice profit and everyone is much happier.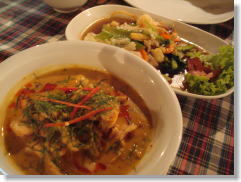 But then we went down to the tourist areas as I was planning to get some work done by the beach. Internal flights with Nok air are really cheap, about 1,000 bahts ( or 35 dollars). But then meals that would have cost 20 bahts in Bangkok suddenly start costing five times more for the exact same food. Plus the people are always nagging you for taxis and tuk-tuks and suits. Plus the roads run by the beach, so if you want to sit down for a quiet coffee or meal you have to put up with all the cars screaming past. So after a while of putting up with this in both Phuket and Krabi ( which was even worse than Phuket), I figured if I was going to get some work done I might as well check into a nicer hotel for some peace and quiet. Thanks to Expedia we ended up staying in a five star resort in the Laguna complex for 38 UK pounds a night, which wasn't bad at all, especially considering what I usually have to pay for a tiny room in Tokyo.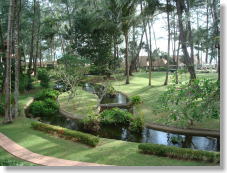 The only problem was that to get out of the complex the taxi drivers were asking for 1,000 bahts or more. Plus the restaurants were ridiculously priced, in one of them a bottle of water cost $10! And the food is much nicer in the back street stalls.
So it was great to get back to Bangkok last night. I was thinking about renting somewhere near the beach next year as most of my Japan workshops are now concentrated in the Summer and if I live in Thailand it's so much easier to get to other countries in the region. I guess I could be moaning too much, but when a meal or apartment in Phuket costs more than London that's just crazy!
As I say I'm really glad I get to work with so many nice Thai people, and if you can get out of the tourist areas ( try the national parks they're fantastic) that's the sort of people you'll meet everyday.