Here's another hip hop quiz for "What shall I do today?"
It's a tough one, can you get full marks? There's also a worksheet to go with it: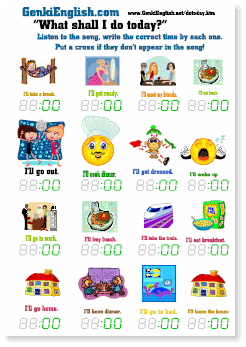 This is another one of my "success secrets", as well as on an evening saying "Today I + past tense", on a morning you can practice the future tense by saying "Today I will…" and list all the things you will do today. Or if you're feeling particularly British "Today I shall…" ; )
It's great for students to make a list of things they'd like to, but don't know how to, say in English which you can then go through in class. It's the ultimate in personalisation and saves a lot of lesson prep time for you!
There are also now Spanish and Korean subtitles on the success secrets page, which I'm sure your adult students will love.