! ESL EFL English site for elementary school kids, with free MP3 songs, games and teacher training >
Page in Japanese


Happy Halloween!
Target English: Halloween Words + a bit of fun!
Target grade: All ages

You can find this song in the Teacher's Set


| | | |
| --- | --- | --- |
| | Click the pictures, hear them talk! | |
| | | |
| | | |




Hallowe'en is a really popular topic, and this theme is great for teaching some Hallowe'en words, and having a bit of fun!

Happy Halloween


Happy Halloween
Happy Halloween
Happy Halloween
Happy Halloween

Look, there's a witch!
Look, there's a wizard!
Look, there's a ghost!
Look, there's a mummy!


I'm scared!
Aghhhh!!!


Happy Halloween
Happy Halloween
Happy Halloween
Happy Halloween


Look, there's a bat!
Look, there's a broom!
Look, there's a wand!
Look, there's a vampire!

I'm scared!
Aghhhh!!!


Happy Halloween
Happy Halloween
Happy Halloween
Happy Halloween
How to teach....


In the chorus, we do the Monster Dance whilst singing "Happy Halloween".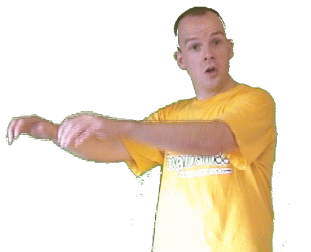 Then, as with the "How are you?" song, you sing the first line ( whilst doing the actions!) and the kids then repeat. Very simply to teach. It's always best to ask the kids for their own gestures, but here are some examples!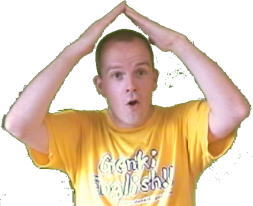 "Witch / Wizard" ( their hat)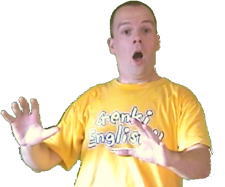 "Ghost" ( act like you've just seen one!)




"Mummy"





"Bat"

"Broom" is to ride a broom.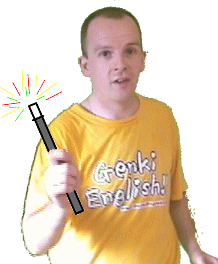 "Wand"

"Vampire" ( show your fangs!)



Some of the words will be new to the kids, but things like "wizard" they'll know from computer studies, "bat" from Batman and the others are not too tricky! "Wand" is especially useful for playing the Harry Potter game!

With the screaming part, get the kids to all scream out together before launching back into the main chorus!





Recommended Game
Halloween Harry Potter Game

1. Split the kids into 3 groups
2. Two groups become Harry Potters and run away.
3. The other group become Voldemorts.
4. The Voldemorts hold up their hand and index finger in the air as a Wand. ( This lets everyone see who is a Voldemort).
5. The Voldemorts chase after the Harry Potters.
6. If the Voldemorts tag a Harry Potter, the Harry Potter freezes and the Voldemort casts a spell on them by saying one of the Halloween words from the song.
7. On the spot, the Harry Potter has to become this word, e.g. they mime a bat or mummy or vampire, whatever they have been cast with.
8. If a free Harry Potter says "hello" to a spellbound Harry Potter, and he/she can reply " I'm a" + the name of the word they are miming they become free and can run around.
9. If all the Harry Potters have become spellbound Voldemort has won and the World is doomed to darkness!

Have a look at the video to see how it's played!



Or try... Dressing Up Halloween

1. Put some Halloween costumes in various places in the room.
2. Put the kids into groups. You need one set of each costume per group!
3. The teacher shouts out gLook, therefs a Mummy!h or gLook therefs a vampireh
4. The kids have to rush to the correct pile of clothes and dress up one of the kids in their group!
5. The best dressed team gets a point or a Halloween treat!


Or you can use any of the vocab review games or why not have a go at "Mini-Karuta". This is the same as the normal karuta expect you put the kids into groups, and they lay out these mini cards on their desks. You shout out a word and the first one to touch it keeps the card!

Or you could print out two sheets for each group and play the matching pairs game!

Take Home Printables.
For Halloween Parties it's always great to take something home, so I thought you might also like a Crossword, Word Jumble & Word Search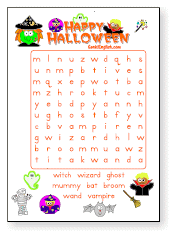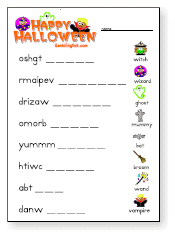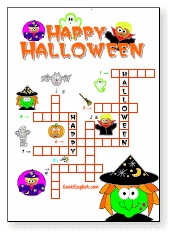 Owners Club Members can click on the pictures above to print them out


There are also my other Hallowe'en Ideas, The Trick or Treat song, Apple Bobbing song and Aygo's Craft Corner: Talking Jack o'lantern, complete with printable worksheet!

You can also find all the Genki English Hallowen printables in these two ebooks: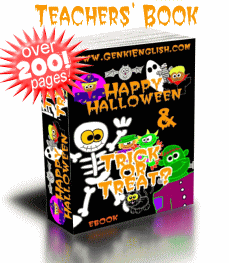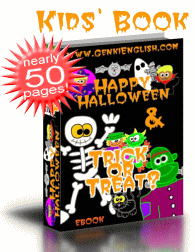 Have a very Happy Hallowe'en!


Picture Book
---
Readers' Comments
by Nick
Hi, I teach as an ALT in elementary school. We are doing a nice role play activity to include more functional English in the Halloween lesson. We made 12 piece cut out monsters (spider, mummy etc..) and are using these to do a 'magic shop' role play. It is shopping, plus adjectives with a Halloween theme. It's funny when they buy the wrong part and make a mummy with spider legs.



Sign up to get my top tips, games & hints via email!



Copyright (C) 1999/2021 by Richard Graham www.GenkiEnglish.com

@