Better kids?  More students?  Higher income for your school?  Check out this video with Margit to see what the no-hassle Genki English Homework Program can do for your classroom.  The prices have all gone up since we filmed this, but the results have been getting even better!
UPDATE:  New Homework Program Applications are currently fully booked.    If you'd like me to let you know when places open up then please write in your details below:
Hello,
I'm a lot like you in that I always want to do the most awesome lessons I can for my students.   And after many years of finding out the best ways to get these amazing results, this is what we have come up with:   the Genki English homework program.
The kids get even better, even faster.   We can halve the time they need to learn English if they study at home, even if you only have 1 lesson per week with them.
We get you more financially independent.  Running a classroom is hard,  but having an extra few $1000 a year income helps relieve the financial stress &  lets you focus on what's important – the teaching!   (Plus having your own branded software puts you way ahead of all the local competition of course. 🙂 )
.
How to apply:
When the applications open up again (see the top of the page!) you

 pay the registration fee and I'll get back to you asking for your school name, where you are and, if you have one, your school logo.  You of course have to be a VIP member of the website and own the Teacher's Set.
I'll make up a specially designed software menu with your school logo on it.  (How many of your competition have that!)   And if everything is OK we'll send you legal permission to duplicate the Genki English software for your students.
You then sell this specially branded software to your students on USB sticks.  Half the money you keep, half you send to us.
.
The current prices are $270 / 29,000 yen / 190 Euros of which you keep half.    (Although we will be increasing this soon, so if you want to guarantee these prices for your students, make sure you apply for the very next intake.)
Then in class….
Set *next* week's lesson as this week's homework.  

At home the kids play the computer game, words &  song and mark it on their homework calendar.
In the next class they already know the English,  you just do a quick review and go straight into using the English in the game!
.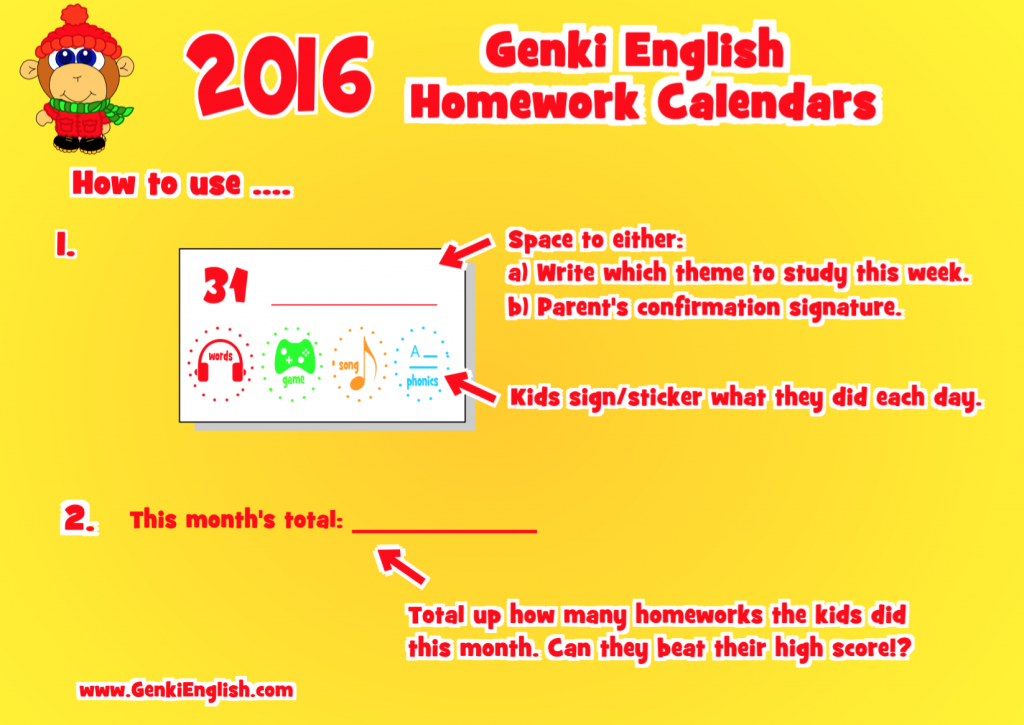 Ninja Tip:  If part of the class have the software and half don't, you'll very soon see a big split in their abilities.  So do be prepared to make them into two classes the next year.  Or if you have the confidence, do what many teachers are now doing and make the software a compulsory part of one or more of your classes from the start – it makes life so much easier!
Ninja Tip 2:  This approach of using the software at home works amazingly well for teenaged students.  They might be too shy to be super genki in front of you,  but they love doing it in their own time
If you want to take your teaching to the next level …..
So if you have your own school and want to take Genki English to the next level, then this is the way to do it.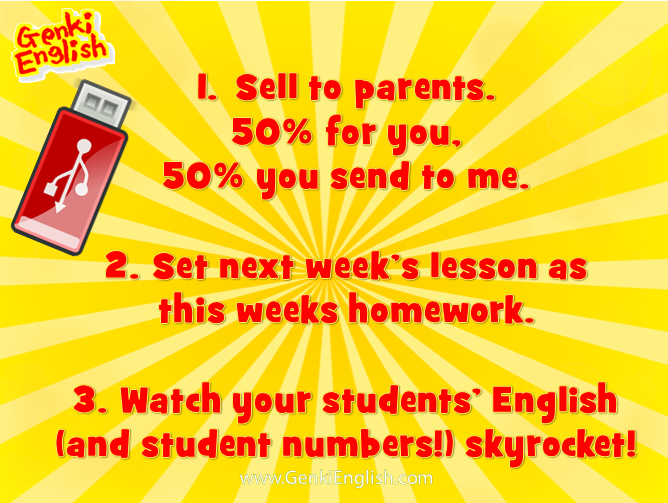 There's no compulsion of course, you can still keep going the old way with no homework if you wish,  but if you want really great students, amazing results and of course an extra line of income, then apply in the next intake and we'll hopefully get you on board!
Be genki,
Richard
P.S.  If you've got any questions feel free to email me before the cut off date!
P.P.S.   Apple won't allow the software to run on iPads,  it's Windows or Mac only at the moment.  (You can do it on some android tablets, but it needs a lot of tech support, so keep it to real computers for now.)    There's no need for an internet connection and the software runs on really quite old machines too, so that always sets parents' minds at rest.
P.P.P.S.   We have experimented with selling smaller sets of lessons, but this has proved to be far too much extra work for the teachers.   And the parents who do buy want to buy everything, so it's easier to go for the full pack from the start.
P.P.P.P.S.   Many teachers are worried about parents buying one pack and copying it for their friends.    In every country we've tried it (including yours!), this doesn't happen.  They are buying from you, their trusted local teacher,  not from me, someone they've never heard of,  so they are as likely to do this as they are to shoplift books from your lobby.   If you still are really worried, just make it a part of the pricing for everyone in that class.   (You can even offer two classes, one with homework,  one without.  The parents will always go for the one with the software homework!)
P.P.P.P.P.S.   Parents can also buy the download Teacher's Pack direct from us. Although of course in that way it is more expensive for them & you won't get the commission unless you sign up for the affiliate programme. 
P.P.P.P.P.P. S.   Whilst I always try and accept every VIP member to the programme, sometimes it just isn't possible, so please be understanding!
New Homework Program Applications are currently fully booked.    If you'd like me to let you know when places open up then please write in your details below: