I hope you're having a * FANTASTIC * time with all the new materials!
Today I have a special request …
Along with some very talented people I'm currently working on new graphic/animation remixes for some of the songs.
And it would really help if you could let me know if you think we're going in the right direction.
So what do you (and your kids of course!) think of these two new versions of the Genki Disco Warm Up song – the bear mix and the monkey mix?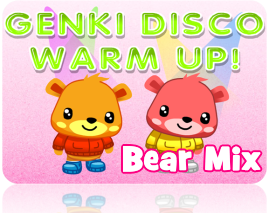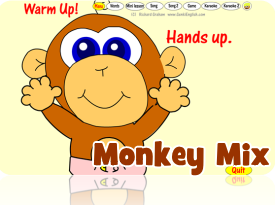 (VIP Members: Right click on the pictures above, select "save as" to save to your desktop, then drag them into your browser!)
Good, bad, love it, hate it, bits you do like, bits you don't, menus etc. etc.  I'd love to hear everything in the comments!
It's a big project to continue so it would really help if you could give us your thoughts!
P.S. The winner of last month's comment competition was Julia! If you'd like a chance to win a Genki English CD of your choice, just keep commenting on the blog, the more you comment the more chance you have of winning!
P.P.S. Any themes you'd particular like to see image remixed first?