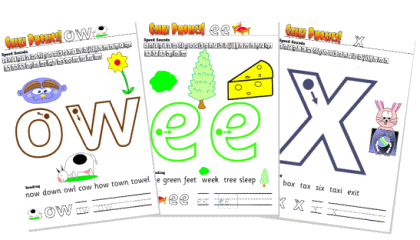 Whilst I was over in Tanzania I got to work with Janet Townend who is a leading expert on dyslexia, reading and also, as it happens, phonics.
After giving it the thumbs up she very kindly looked over the Genki Phonics programme and made a few suggestions and improvements.  There's nothing major, but quite a few example words and phrases have been tweaked to make them easier to use.
You can find both the updated Phonics Posters and Phonics Workbook on the main phonics page.
(Of course VIP members get the updates for free and if you have bought them separately then send me an email and I'll get you sorted with the new versions.)
There's also a  new Japanese Explanation of how to use the posters.
Genki Phonics 2.0: Phonics Stories
But that's not all!  Margit has been working on some brilliant new examples to use with the Genki Phonics to get the kids reading real, full sentences even earlier.  They're still very much in alpha form, but after just a few lessons you'll have things like:
Dad taps Tim: "Tim! It's dad!"
"It's you dad? Dad, I'm sad."
or
Tim gets a ticket.
It's a ticket to kick an egg.
Dogs cannot kick.
Cats cannot kick.
Men and kids can kick.
Tim's ticket is in the pocket.
I think it's magic what she's done and you can get in touch with her over on the VIP forum.
The end of Foxy Phonics
This also means that the Foxy Phonics series has been discontinued.  Even in Junior High School the Genki Phonics posters have pretty much superseded it in every way!  We might have a couple of copies left around the warehouse if you really, really need them, but I think you'll get much better results, and have more fun of course, with the Genki Phonics posters.
Any comments or thoughts about the phonics materials, please write them in the comments!