1.  Put up the new Genki Tik Tok poster for the new lesson you want to teach on the screen and get the kids to scan the QR code.   The Tik Tok app opens with the video crazy fast!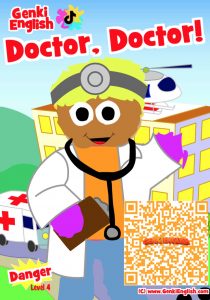 2.  In groups of 3 or 4, get the kids to play the video and test each other over and over so that they have memorized all the words and the question.
3. Play the Genki class game as usual to see how they've learnt it.
Because of the speed of Tik Tok, in just a few minutes they are going to have learnt all the words.   Which is crazy.  We've never seen anything this fast.  Then just do the class game from the curriculum to practice.
This could be something really big for teachers, so give it a try and let me know how it works for you!
How did I come up with this?
I was with a group of Ukrainian refugees last week and I was watching how all the kids were spending all day on Tik Tok.
And, first things first, if your students are not on Tik Tok yet,  don't do this with them!   The last thing we want is to encourage kids (or teachers!) who aren't on there to start.
But …. if they have it already, this is just a crazy fast way to teach.
We've seen things that some teachers struggle to teach in 45 minutes,  the kids are learning in 15 seconds!
Or rather in multiples of 15 seconds as they play it over and over again until they've got it right.
Now ideally the kids would have the full Genki program at home, but if you don't have that yet, the recipe above is what I would do to teach now,  it is sooooo fast!
I've done 8 lessons for you here,  if you like them, let me know and I'll make more!
Give it a try and let me know how it goes!