I know many of you are using the Spring holidays to catch up on printing and laminating, so here's a little more to add to your workload. 🙂
Funky Minicards to go with the 1st, 2nd 3rd song in the When is your birthday? lesson.
Or if you wanted to be a little more boring, there are some more basic ones here.  The cartoon ones are better though, eh?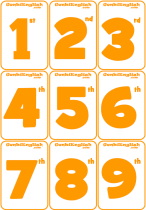 And just in case you missed it, here are the gestures with the teachers last year!
If you have requests for extra material you'd like making up then do let me know!
Be genki,
Richard
P.S.  If you liked the energy in the video above, do join us for this year's workshops, places are filling up very quickly!
Fukuoka (April 6th) Slovakia (May 23rd/24th),
Kiev (May 31st/June 1st), Tokyo (July 19th) Nagoya (July 20th)