I got this great game from Lesley Ito's great new kindle book: Fifty Ways to Teach Young Learners: Tips for ESL/EFL Teachers
(The book is only $1 and is a total bargain, I'd totallyΒ recommendΒ it. Even I got two great new ideas from it!)
Anyway….
1. Teach today'sΒ stationery words (paint, pencil, ruler etc.) and put the flashcards on the left side of the board. Β Write numbers 1 to 6 next to each one.
2. Review prepositions (under, on, in etc,Β spider version here or Indy dragon version here) and put these cards down the middle of the board. Β Again write numbers 1 to 6 next to each one.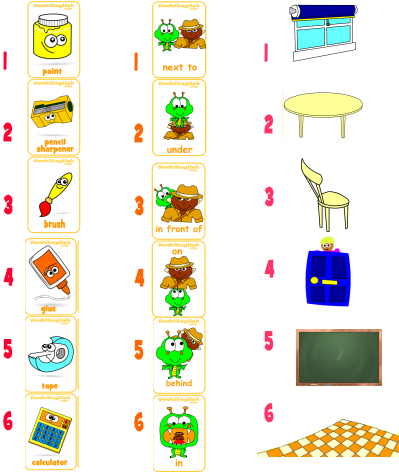 3. Finally review some classroom furniture (desk, chair etc. Β there are a few part way down this page.) put them on the right side of the board, again numbered from 1 to 6.
4. Β Ask the kids a quick review question e.g. even a quick "What's this?" by pointing to one of the cards.

5. The fastest kid to answer comes to the front and they throw 3 dice.
6. They make a sentence according to the dice thrown e.g. if they threw a 3, a 4 and another 4, and say the number 3 card on the left was "brush", the number 4 preposition was "on" and the 4th classroom furniture was "door" they have to say the sentence "The brush is on the door."
7. Β But then they only get the point if they actually put the item in this place – fun with a brush on a door! πŸ™'

8. Β Repeat from step 4.
Pretty cool, eh? Β It's a great way to not only get some fantastic grammar learnt in a fun way, but you also review several different themes.
Lesley's new book is chock full of other ideasΒ (including a few you might have seen before on Genki English! πŸ˜‰ )Β Β and for a $1 I think you are going to like it.
And the only other question is …. if I was going to do a "classroom furniture" theme for you, what 8 items would you like to see included? Β Do let me know in the comments – remember anyone can write a long list, the skill is in keeping it short to just 8 items! πŸ™'
Be genki,
Richard
P.S. Β Whilst you're on kindle you might also want to check out my "Success Secrets of Learning English" book, also only $1 on Kindle Japan or Kindle InternationalΒ and we got up to number 16 on the Japan Self Help charts over the holidays!