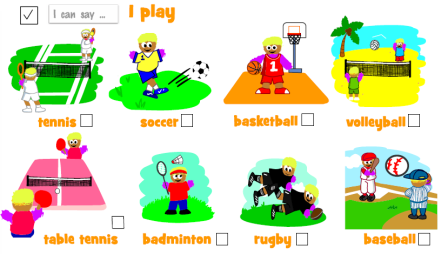 Just in time for your Olympics Lessons, here's the latest Genki English update for the "What sports do you play?" lesson!
If you've taught this song before I'd love to hear your feedback in the comments.
And/or of course finding mistakes or positive comments about the updates are always appreciated!
Here's what's new:
– super improved graphics (are they dynamic enough now?)
– improved sound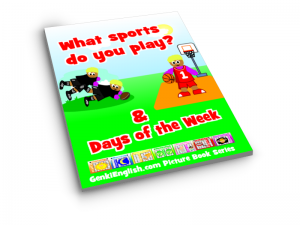 – added "Days of the Week + Sports" picture book
To install:
1. Safely back up your Download Pack / USB ( because you know *something* will go wrong somewhere!)
2. Right click and select save as on this link https://genkienglish.net/clipart/SPORTS.SWF
3. Copy the file into your Download Pack / USB folder (overwriting the previous version)
And I think, ladies and gentlemen, that is the last of the main updates!
There will be a few smaller ones later in the year (menu, picture books etc.) but as they stand now every lesson has super hi res pictures that should hopefully make it much easier to persuade your schools to go with Genki English!
Of course if I have missed any themes then do let me know in the comments!
Or if you find mistakes in this one!!
Thanks for all your support and nice comments both here and on Facebook.
The reason I've been able to take the time to do all these free updates  is because of all the great messages you've been writing about Genki English on blogs, twitter, Facebook and of course in real life.
The more you help by telling more teachers about Genki English, the more time I can spend making new things for you!
I think that's a pretty good deal! 🙂
Be genki,
Richard
P.S.  I'm heading off to a conference in Singapore tomorrow but I should be back on email very soon!
P.P.S.  If you're not a VIP member yet, no worries, all the updates are included in the Genki English Download Pack!