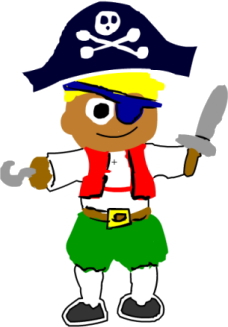 As the new Pirates of the Caribbean movie comes out tomorrow, how about this little game from the Top 50 Games eBook…
Target English:  Directions, left right etc. from Genki English vol. 1's "Left & Right"
1. Blindfold one student – or use a double eye patch for more pirate fun!
2. Place several "shark" picture cards on the floor.
(https://genkienglish.net/underthesea.htm)
3. The other students guide the blindfolded pirate to the treasure at the other side of the room. ( https://genkienglish.net/treasureadventure.htm )
4. The pirate can only move when he/she hears a command in English!
5. But if they step on a shark it's game over!
6. Repeat from step 1 with the next group!

P.P.S.  The winner of the comment competition for April was …. Barbara! Keep your comments coming and you might win this month!