In this post I'm going to show you how to get lots of new students. As many, or maybe even more, than you'll ever need.
A lot of teachers tend to focus a real lot on lessons, and rightly so. But many teachers also neglect their "marketing" ( i.e. the image they present to the world. ) maybe just thinking about a few fliers or events here and there.
What I'd like you to think about today is this important business phrase:
Marketing is everything.
All the success of your school is down to the marketing, the presentation and sales, you do. Even if you have the most amazing lessons in the world, if nobody knows about them you won't last long!
But the other way to read it is that every activity you do and every decision you make is actually marketing. So we might as well make the most of it.
Here's what I mean…
Handouts & Homework
A lot of teachers like to give out handouts and homework to the kids. But also many teachers give them out in black and white on individual sheets of paper. "Colour is too expensive"  you might have told yourself before.
These days, if you buy ink in bulk, the difference between colour and black and white is very small, just a few pennies. But the difference it can make in attracting future students is enormous.
Printing in black and white is what we call being "penny wise but pound poor"
For example, just imagine you are a parent who is looking for a school. As all parents do you chat to your friends. One pulls out a few scrappy black and white worksheets they got given at their childs' school. The other pulls out a professional ring binder with the schools' name, inside are full colour gorgeous worksheets, filled in with tick marks and teacher's comments. The second school is a more expensive, but which do you chose?
Some of you will say "ah, but that makes us look too expensive so parents won't come". But whatever parents may *say*, in actuality they don't care about price at all. Not one bit.  If they did they wouldn't buy tobacco, lottery tickets or iphones.  All they care about is *value*.
These types of handouts scream value to parents. All the while they cost you very little extra in actual cost. And colour always motivates kids to learn more too!
(Or of course even more impressive is special computer software branded with your school logo, but that's a different post.)
Where to put the rooms?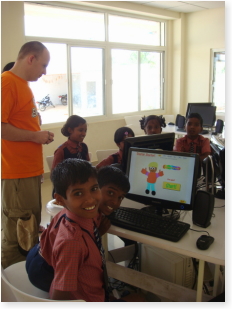 When I first went to see our schools in India I was shocked to see they'd put all the computers we'd given them right in the front room nearest the street. With huge windows.
Coming from Yorkshire, my first thought was "Woo, those aren't going to last long before someone steals them"
The director of the school explained that the thieves will know they have computers wherever they put them. But … by putting them on the street they were sending a powerful message to the parents.
They were saying "Just look at our school, we use the latest hi tech to teach your children. See for yourselves" And that marketing message was worth way, way more than any imaginary risk of theft.
(And as it turns out the slums of Hyderabad are much safer than the streets of Leeds!)
A lot of schools just put their secretary and waiting room at the front. So all anyone ever sees of your school is bored parents waiting to pick up their kids.
So instead put your computers (tell me a profession that doesn't use computers these days!)  or classroom with your star teacher right on the street front. Let everyone see just how amazing your lessons are, and certainly how much better they are than the competition!
Think about the posters and design of the room, really make it say something about your vision of what a great classroom should be.
Lessons & Curriculum
The biggest things to consider are, of course, your lessons and curriculum.
If you want more students but don't want to waste time outside "selling",  you must also view each lesson as not only a learning opportunity for the kids but also a marketing opportunity for your school. The kids walk out of there having learnt something mind blowingly brilliant, but they also have had the most fun hour they've had all week.
They leave with a huge smile saying "Mum, look at this!" as they clutch their full colour print out full of stars and ticks!
As they spill out into the street everyone can see the enjoyment on their faces and the pride of their parents.
And the same with your curriculum.
Plan it out so that after a few weeks the kids are coming out with really impressive English. Then after a few months they speak completely naturally without needing time to think. And after a couple of years they've achieved all your goals and can graduate.
The school down the street will still be doing numbers and colours and struggling to keep the same kids for the 6th year running. Whilst your kids will have all graduated, which you won't mind as the word of mouth will bring in more new students than you could ever hope for.
So treat everything as marketing. Let everyone see the work and effort you put into your lessons. Really think about the image you are creating when you do Halloween or Christmas parties.
When people look at your students what impression do they get? Confident, intelligent, polite students who always try? Or something else?
Education needs great educators like you. And the world needs to *see* great educators like yourself.
The way to improve things is to rise above the competition. It only takes a little in terms of pennies or time, but what it does take is attention to detail in everything you do. What does this, this and this say about you.
Once you crack that you'll have the best school in town, with the best parents and the best kids who will be a dream to teach. You'll wake up in the morning wanting to try new things and be extremely motivated knowing that you are doing amazingly well from a business & finance point of view, whilst showing the world how good education can really be.
What simple changes can you make right now?
Be genki,
Richard
P.S. If you've got questions, ask away in the comments!
P.P.S.  Check this out for help on getting your first student or this post on how to "sell" your lessons to parents.