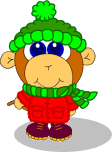 As you may have seen in this morning's newsletter there is finally, after 2 years, a song for the Winter Clothes theme.   It's big, it's operatic and your kids are going to love it! Here's some of the feedback from the beta test forum:
"Just when we think we've got it all you bring out an absolutely corker like this song. I found it absolutely brilliant, spot on and so different from the other stuff it's just amazing. " – Rosebud

"Waaa!!!! This one's genius!! I'm actually speechless" – Julian K
Plus this year there are Snakes and Ladders, Uno Style "Crazy Eights" game, Island Hopping Game, Dice Game, Mini Cards and Spaghetti Listening Test Worksheets to go with the theme.
So get your coat on and enjoy the warmth of the Winter Clothes song!