Yesterday I flew to Japan for a huge book fair in Tokyo. I used to do loads of these but stopped for a few years as a) everyone already had all the CDs and b) there's not really that much you can do in a hour. But seeing as I've spent so much time abroad last year there were a few people in Tokyo who'd never seen Genki English live, so I figured I'd give it a go. With now having the main "How to" workshop online as a video i.e. everyone knows the basics, it's quite possible to quite a lot of new stuff in an hour!
Symposium – slow start…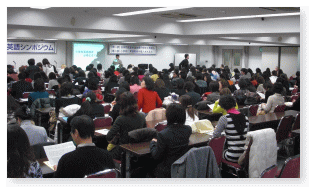 It wasn't just me on the venue, there were presentations on all day, sometimes 3 at once. Things started off with a symposium about the future of elementary school English in Japan. I figured I'd better sit through that. But they were just going through how many times the government have promised to make it compulsory and and then decided not to at the last minute. All this going back 30 years.
Luckily things went very quickly uphill from there!
Mini Workshops
As there were 900 people attending today, and none of the rooms could fit that many people, all the publishers had 15 minute mini workshops throughout the day at their booths. I wasn't sure how this was going to work, and I didn't have a big sound system, so figured I'd just do a few games. And it worked really great, sort of taking up the whole floor space! We did the Nemo game, mingle and Harry Potter in the first session. The other publishers also had some really great stuff, and the bite size 15 minutes really made picking up new ideas really easy.
Then just before my second one I'd been having a great reaction from the Trick or Treat song so I figured we'd try the new Winter Clothes song. Even though it was really quiet (just my laptop's build in speakers) everyone loved it, especially the few kids at the front! Then we finished off with the Bargaining Game. That's a new favourite song!
Usually I don't have time to do games in very large rooms (just moving the chairs takes ages!) but it was good to do them today. I think it was also good for the teachers to see that although I'm really genki when introducing the game, I just then pull back and let them get along with it on their own. I get a rest then! The only tricky bit was when we didn't do the songs first they didn't really know what English to use. But I guess that's fair enough and shows how important the songs are.
Main Gig – Genki Man!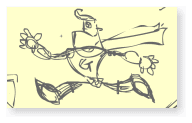 We're working on the
superhero cards right now!
Then it was time for the main gig! I was now in the big room (packed to capacity) with a big new sound system and everyone was totally amazing. I really, really wish I had videod it, you'd love to see it. Actually did anyone who came video it? Right from the start everyone was laughing at the jokes and really joining in. It was also amazing that I could do it all in English and everyone understood, plus everyone was really into the pro rules part about being the best teacher in the world! I guess having a load of fans there makes a big difference, so thank you to everyone for being so fantastic!
Content wise we did Genki Disco Warm Up, followed by a brief self intro and Genki English rule number one: I can do it! Then I wanted to show how to teach "I can do it" Usually I'd use the "I can do it" song, but of course now we have another choice, the Genki Man Super Hero song!
It went down such a storm, it was amazing to be in the room with everyone singing "I'm a superhero" whilst doing superhero style poses, everyone was in tune and it sounded so, so good.
One good thing was that when I asked the teachers "Can you fly?" they all said yes! Bad teachers always answer "No, of course I can't fly". They are thinking too narrow and missing the point of "I can do it!" The correct answer is "Yes, I can!" I know perfectly well because yesterday I was in Amsterdam and I know I didn't walk to Japan, I flew! "Yes, I can" doesn't always mean taking the straight line somewhere, it means think outside the box and see the problem from a bigger angle where you can often find a new way of doing things.
Can you speak…?
Then I wanted to show how the curriculum builds on itself by taking an idea from one theme and adding to it in another. So in Genki Man we have "I can jump/swim/ etc." which I then used to lead into "Can you speak…?" It's a very simple jump to make, but this is such an important phrase. I lost count of the amount of teachers today that said "sorry, I can't speak English". Dude that's where you are going wrong! If you say or think that, that's what happens, you can never speak it well. I didn't ask "Are you fluent?" I asked "Can you speak English?" and if you can understand the question then answer is "Yes!" That's the main point of this song, the kids answer "Yes, yes I can" a total of 16 times. Is it "mind control"? Well, yes! If you say yes to something 16 times, and have the teacher getting you to sing it louder each time, then it pretty much sticks in your head. Then in the verses I got the teachers to answer honestly to questions such as "Can you speak Arabic?" which really brings out contrast between knowing nothing about some languages, but actually knowing quite a lot of English, which is a great confidence boost!
India and China
Then I talked a bit about India and China and how we're doing things there, and especially how good the teachers over there are! After a morning of "English is too difficult" it was good to see that in other countries they are just doing it, and those are the people to compete with. It was also great timing that the university sent me the first set of results from the India schools showing great improvement with the kids using Genki English. It's always nice to have posh graphs that show all the data , especially from a prestigious university, as well as just talking about it!
Invest in yourself
It was nearing the end, but the room was buzzing. I finished off by talking about the Superpacks (the Superpack is the international Teachers Set but with extra Japanese DVDs) and the fact that buying it is simply investing in yourself. You don't get any money back from the banks right now, shares probably aren't going to rise that much, but spending a couple of hundred dollars to learn new skills is something that will always be useful.
Save trees!
It also helped to show all the support material in the Owners Club that you get with the Superpack or Teachers Set. All the other publishers had big booths with manuals and cards etc., but with Genki English if you printed out everything in the Owners Club it would be huge! Luckily having it all online for members saves a lot of trees! And actually I was thinking that as the CD Sets are so big, there's a lot in there, the download pack is probably the way to go for the future to cut down on the packaging even more.
Sold out!
Luckily for today we had such a great room full of teachers all ready to give their best, then they ploughed out, straight to the sales area and we completely sold out of all the premium Superpacks, a huge great big pile of them just vanished, it was like a rugby scrum! We still had a few normal Superpacks left without CD7 & 8 in them, but everyone wanted all the CDs. Which is great and might mean I can look at doing some more bookstore presentations in other cities, because if people buy, the bookstores are happy to organise things and it pays for all the hotels and flights. So get on to your local bookstore and they might just organise something!
Thank you very much for everyone who came, Julian-K was there with his crew (always good to put a name to a face!), there was with a very genki teacher from a school which promises fluency in 3 months (that's just the sort of school I like, so I'll find out more about them for you), I also met Shane from Shane's English schools who has probably one of the biggest chains in the world, and lots and lots of other amazing people who really got me back to being Genki about Japan and realising that even if the government won't pull their finger out and catch up with the rest of the world, the teachers on the ground are really, really flying high!