We're at the other end of the spectrum today with one of the most amazing worksheets you can do with advanced* adult students.
Just one worksheet and it will change everything you do. 🙂
(* by advanced here I mean all the way up to medical, legal, CEO level of English.  If your adults aren't here yet,  do the regular Genki English curriculum first.)
It is based on one of the most popular activities used by top business coaches (i.e. $5000 per month coaches)  with high end clients.
And I've just tweaked it to improve on one of the key grammar techniques I use in my own Success Secrets course (i.e. present, past and future tenses.)
It's very simple and works on the current business research into goal setting, clarity and, most important of all, gratitude.
If you're not into this sort of thing then give it a miss,  but if you want to completely change the lives of your students, give them this worksheet to do everyday: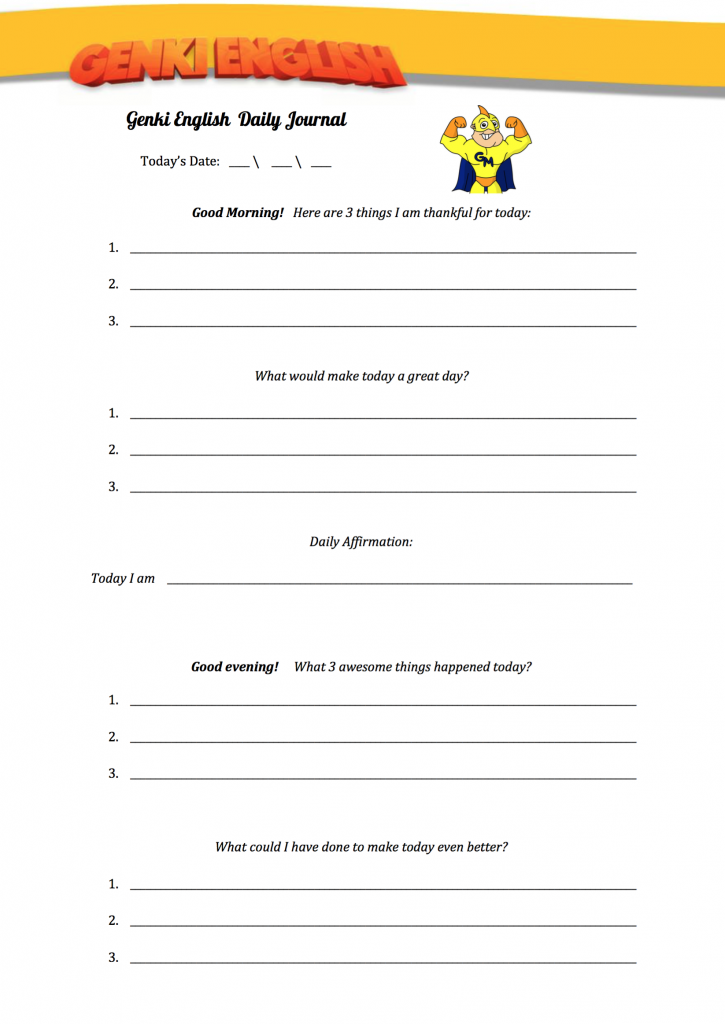 Ninja Tip:  VIPs just click the picture above.    For non-VIPs,  full VIP membership comes with the Teacher's Set if you'd like to join us. 🙂
By the next lesson they will have 7 sheets all filled in and ready to be worked through together with you.
If there is anything they can't work out they give it a try in English (i.e. encourage them to take risks) or in their native language.
This then becomes the target language for today's lesson.
The English magic is that all the language and vocab is 100% personalized to themselves.
This is both the language that we all need the most and it also happens to be the easiest to learn.
It starts off simple, but eventually they want to express more and more so their English keeps expanding,  even though the questions are always the same.
Plus they also get the personal development aspects that come from doing such exercises on a regular basis (most successful people invariably do this everyday.)
Give it around 20 to 30 days to see some amazing results for your students.
And best of all, they are going to credit you with changing their lives!
Be genki,
Richard
P.S.  If you are wanting to bring some of this CEO level gratitude training to your kids or regular adult classes, check out the Genki English Thanksgiving lesson.  I've been finishing workshops with it recently and it has been a huge, and hugely moving, experience!
P.P.S.  If you have started your own school, doing this everyday yourself will be one of the powerful things you can do each day to improve your life and school.