Today was the first of 2 days follow up teacher training from the week's training we did in December. Half is me for the listening and speaking and half is the phonics programme for reading and writing.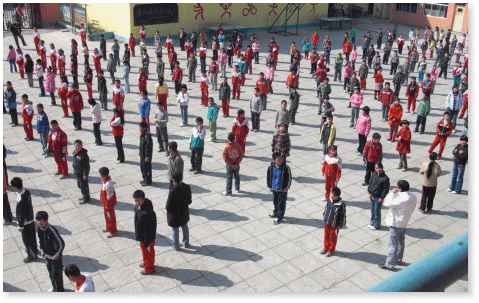 After another address to the school assembly (where the kids had just been doing their morning exercises!) and setting up it was off we went….
Superhero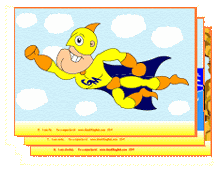 We had some new teachers so to review rule number 1 "I can do it!" it was into the new Superhero song. That worked a treat! I stressed about using the software more to get the pronunciation right and they loved it.
But when I came to ask "Can you fly?" all the teachers said "no". Ahhhh. So it was into a speech about thinking outside the box and about how we're not just teaching English, it's the life skills that the future leaders of China, who we are now educating, are going to need. With a very Genki translator to help out they started getting all exciting again.
The line I always use is "Well I was in Singapore the other day, and I know I didn't walk to Beijing….."
Imagination?
We've also had some problems with some teachers deciding on their own to not do any games. It seems to be because they are either a)a bit traditional or b) a little scared, and don't want kids running around too much as they feel they would be out of control. Fighting the traditional "children should be seen and not heard" and "the teacher is the only one who should talk" is still a problem in many places.
So for the first game today I wanted to do something that doesn't have the kids running around too much, so did the "design your own superhero, draw a picture, pick a name and tell us what they can do" activity. They did great with it with some cool stuff – "change into" was a popular request. "I can change into an apple, a helicopter and a computer!".
So I asked if they could do it with their classes and they all said "no!". What?? OK, so I asked why and the first grade teachers, yes first grade, said "our children don't have any imagination". Ah dear. Sometimes kids' worst enemies are their teachers! It's not the kids who are suffering from a lack of imagination, it's the adults! But luckily I have a secret weapon in the form of Flossy's Imagination Sheets video which I'm going to show them tomorrow, that is going to knock their socks off when they see what kids can really do!


(I still can't get YouTube here so I hope this video came up OK!)
Can you speak?
Because they've only been teaching 20 Genki English themes so far, one thing I need to do this week is to show them how future themes link up and link in with each other so effectively we are teaching "grammar" it's just that we don't call it grammar.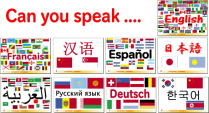 So I did the Can you speak…? song to link in with the "I can…" of the superhero song. Again they really loved it.
One of the things they do in the Chinese textbooks, which is quite cool, is to use the Chinese flag to introduce colours (red and yellow), shapes (stars!) and numbers (how many stars are there?). There's a lot of info in the Can you speak…? picture cards, and usually I just use the rough quantity of the flags to show how useful English is because you can use it in so many places. But we realised today that it's also great to teach colours, shapes, numbers etc. as some of the flags are pretty amazing.
Then I wanted to do a real genki active game. Luckily last night Sara sent in some amazing games to use with this theme. (They're at the end of the Can you speak…? page). We haven't put any budgets in for printing cards etc. in the classes yet so for now, and just because they were teachers, I just got them to write down one language each on a piece of paper.
Then…
1. Get in a circle.
2. Hold up your card.
3. The rule is you can't move your heads or eyes. You've got to be still! (Cue lots of laughing!)
4. Teacher says "Can you speak German?"
5. Everyone says "3, 2, 1, Jump!"
6. You jump to face and point to where you think someone who has a German card is.
7. You either say "German" or "I can speak German" as you point.
8. The German person then picks another language and asks "Can you speak….?"
9. Repeat from step 5.
As you can hopefully see from the video below it was a huge hit!

(I'm trying a new video service today, does this come up OK?)
Along with my rough camera footage, we've also had a professional TV guy filming everything so I'll try and get as much video into the owners club as I can when I get time to edit it up.
Phonics -> Reading
Then for the final hour in the morning it was a review of the phonics lessons they've been doing, just to get the new people on board. The programme they've introduced is working really well, with a brilliantly designed lesson plan that the teachers are really mastering. I'll see if I can get more online for you because I can highly recommend it!
Then after lunch the Dr from the UK introduced the next phonics programme. The lesson still looks good but the jump to reading means that there is a heck of a lot of vocab the kids will need to pick up on.
The main thrill with phonics is when kids can look at a strange mash of symbols which they don't understand, then sound it out and suddenly realise "oh, that says …. !!!" That's what spurs them on so much. Of course if they haven't heard the word before then it doesn't work.
Just looking at the amount of content in this new phonics course, which was designed for kids in the UK, we're either going to have to ramp up Genki English so they cover many, many more themes much more quickly or introduce some type of extensive listening course. But anyway, that's what we're researching so we'll see how things go.
Then it was time for me to do some more Genki stuff in the final hour.

Winter Clothes & Two Hour Lesson Plans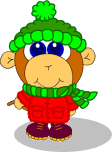 Tomorrow I've got lots of feedback and in depth reporting I need them to do, so I kept things pretty light and fun for the last hour today. You know I should market Genki English as an adult course because they get so much enjoyment out of it when they become students learning English with GE!
So we did Baby Monkey's Clothes and they loved the opera bits!
As they have two hours per Genki English theme then I wanted to introduce the "2 hour lesson plan" It's very simple, you just do the one hour lesson plan as usual, then in lesson two you review the song and game for 15-20 minutes, then introduce a follow up activity using the same English for example the Picture Book or Imagination worksheet or even another game. As we are needing more listening and vocab exposure then I went for the first option and they loved them.
Pronouns & Dinosaurs
Then I wanted to introduce the pronouns song. Many of these words are introduced in phonics courses as "tricky words" or "sight words" or "irregular words" and it's important that the kids have been exposed to them in aural form before seeing the written word. Using the pronouns song we can also show how mixing two themes together can make the knowledge of 8 sentences in one theme i.e. I'm hungry etc. suddenly multiply into 64 brand new sentences. In the future I'll also be adding "was" and "will be" themes so you'll be able to say things like "I was hungry, now I'm tired, later I'll be thirsty" type constructions.
And we played the I am a dinosaur game, which they loved. Again this should be an adult course not just for kids!
Then we did the Superhero song again to finish on a high note.
So a very nice and very easy day. I was a bit worried about the lack of imagination, and the few new teachers who were saying things like "oh, that's too hard" (the difference between the teachers who'd been trained before and had been teaching GE and those that hadn't is amazing in their views of what can be achieved) but for most of the teachers we easily got over that and they were great.
So then it was out for more gorgeous Chinese food, this time dumplings. And we also heard that there's a new "learn English in 8 days" programme out here, which will be great to implement if it's really true!