Hi Everyone, I'm back from India!
Staying in the school (with buckets of (cold) water for showers!) was tough. But just look at the smiles on the kids' faces during the Superhero song!  You can't ask for more than that, can you?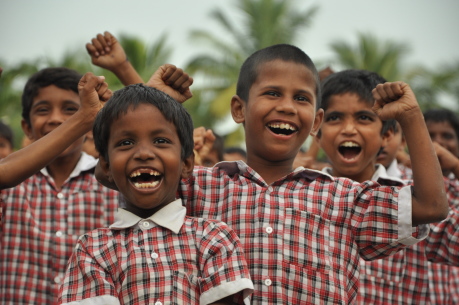 Genki English "Superheroes" in Tuni, India.  Photo (C) by James Tulloch
I wrote last week that this was for ultra low income families.  But actually a lot of these kids are  orphans, and all of them live in the children's home that is part of the school.    I'll tell you though, they had more smiles than any school you'd see in the West.
The teachers were also fantastic.  They get brilliant results in the tests, but due to the rote learning the kids can't speak English.  So the charity who supports the school (Scottish Love in Action) contacted the University of Newcastle in the UK, who contacted me.
As usual the English part worked out well. But the real difference came with getting the teachers Genki. They put so much passion into it and were enjoying the training so much.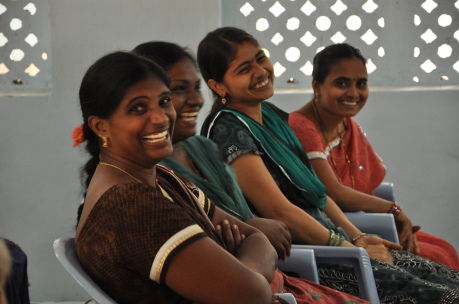 Genki English teachers in Tuni, India.  Photo (C) by James Tulloch
The schedule was two days of training for the teachers, with a trial class for them on the third day.  Plus I also got roped into doing a Genki English "show" for the whole school – 400 kids all at the same time! – not once, but twice!  They were so good though.
We also took lots of video, so if you'd like me to upload some, do let me know in the comments!
One final picture for today (before I start work on my hundreds of emails – I will get round to answering them all I promise!)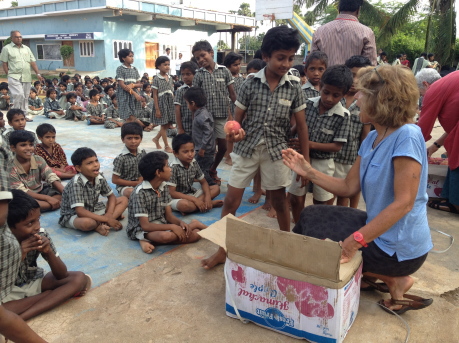 This is "Apple Day."  A sponsor provides an apple for each of the children.  Once in a month.
The kids were so looking forward to it.  How would your kids react to getting an apple once a month?  (Maybe useful for the Thanksgiving lesson this year!)
I'll post more games and things in the coming days, but for the time being, thank you to everyone in Tuni, Edinburgh, Newcastle, Mombai & London for all the (very!) hard work in putting this all together.
I'm sure we're going to see a lot more of these kids in the future!
Be genki,
Richard
P.S.  As I mentioned above, if you'd like me to upload some video of the kids and teachers do let me know in the comments.
P.P.S.  The winner of the August Comment Competition was Shawn.  If you'd like to win a Genki English CD of your choice, get commenting on the blog. I'll pick one winner each month, the more you comment the more chances you have to win.  (The post from Yesterday was quite popular!)